Expedition Amazon
aka: Amazon Gakujutsu Tanken
Expedition Amazon puts you in control of a team of 4 explorers on an expedition to map and study (i.e.: plunder) the ruins of the Incan civilization. Your team consists of a Medic, a Field Assistant, a Radio Operator, and a Guard. After equipping your team with all the necessary supplies (don't forget the mosquito netting!) you travel to your base camp at the edge of the jungle where you will begin your journey.
You will quickly meet up with many of the hazards of the jungle as you explore, including hostile natives (hope your Guard is a good shot!), mosquitoes, disease, covered pits, wildlife, and more. Each of your team members has an "EL" rating which indicates how close he is to dying. Death comes quickly for new team members, but as your team gains experience by mapping more and more of the Amazon and Incan ruins, your EL rating goes up and your team members become quite a bit more effective at avoiding hazards. You also get an Efficiency Rating "ER" which is an overall score of your exploration completed and loot collected minus your money spent and the number of team members killed.
Once you have mapped a few sectors of jungle you will find some ruins with passages leading underground. Underground is a lot more hazardous than the jungle, as many of the pitfalls you encounter mean instant death if you don't have the proper equipment or your team was not alert. The natives are also a lot more numerous underground as well. But don't worry, you can always replace members of your expedition. Besides, what does it matter if you lost your Field Assistant if the rest of your team is carrying out a bagful of gold and silver?
Spellings
アマゾン学術探検 - Japanese spelling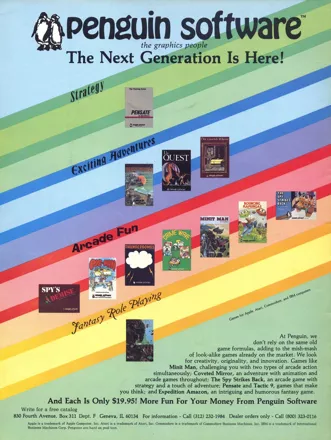 Credits (Apple II version)
4 People
Players
Average score: 4.5 out of 5 (based on 7 ratings with 2 reviews)
The Good
This game gave me the opportunity to explore the jungles of the Amazon without ever leaving my parents' basement. The excitement of uncovering a new tomb, or the challenge of escaping from the depths of a Mayan temple provided me with hours of entertainment.

The Bad
There wasn't a whole lot I didn't like - in fact, I can't think of anything. It was a great all-around game.

The Bottom Line
Expedition Amazon is a graphical adventure that allows you to explore the Amazon rainforest while attempting to avoid traps, natural enemies (read pirhannas, alligators, etc.), human enemies (the natives), and other obstacles. One of my favorite traps was 'falling' into an underground crypt, which often lead to a huge amount of treasure, assuming you could find your way out.
Apple II · by Aaron Dyck (1) · 2008
This is a flawed game ruined by irritating random events and too many death traps.

The Good
Mapping the Amazon and the underground temples and learning to avoid the obstacles and traps in your way is a lot of fun. This is especially true once your characters make it past about level 10 when they have enough life to survive most encounters without having to immediately camp and heal your party. The game is designed so you never can carry quite enough supplies to do what you need to do, so you end up taking risks and making narrow escapes instead of just rolling over the enemies once you have the cash.

The Bad
The main weakness of Expedition Amazon are the death traps which occur early and often. Most of the random events in the jungle can be overcome with the right equipment, but once you get underground, there are certain traps that will instantly kill one of your party members (such as the lava boreholes) and other events that have a good chance of doing so (such as your rope breaking when you try to cross over a sacrificial well). Since the maps are fixed and not random, mapping the underground eventually becomes a game of memorization and guessing rather than skill.
Mapping sectors can be very frustrating because (especially underground) there are several random events which can cause you to flee or leave the sector. Leaving the sector with an incomplete map (a map is incomplete if it has more than 2 or 3 unmapped squares not including traps) forces you to map the entire sector again. This is frustrating and pointless, especially when you first start playing the game.
Another big problem is that your game is over when you lose all of the expedition, which is silly. After all, why were you making all those maps in the first place if other people could use them to follow in your footsteps?
There are also a lot of items that seem valuable but are really somewhat worthless. The automatic rifles are too expensive and use too much ammo to be effective. The Loran can be somewhat helpful, but not as helpful as its 99,000 price would indicate. What I'd really want to buy is a porter that could carry extra med kits or ammo for those really long underground expeditions.
Finally, once you have mapped all the jungle sectors and the first two underground levels it is not clear what you are supposed to do. It makes you wonder why you bothered to play the game this far in the first place if there is no ending.

The Bottom Line
Expedition Amazon is a game of exploration that is fun if you can get past the extremely frustrating gameplay.
Apple II · by Droog (460) · 2003
Trivia
Penguin
Most Penguin Software (or Polarware) games contained a funny little remark about Penguins on the back cover of their games. In this case it is "Penguins rarely seek careers in military."
Contribute
Are you familiar with this game? Help document and preserve this entry in video game history!
Contributors to this Entry
Game added by Droog.
Commodore 64 added by Martin Smith. PC-98, FM-7, PC-88 added by Terok Nor.
Additional contributors: partykiller, Rik Hideto.
Game added August 24th, 2003. Last modified August 30th, 2023.