Batman: The Telltale Series - The Enemy Within: Episode Three - Fractured Mask
aka: Batman: The Telltale Series - The Enemy Within: Episode 3 - Fractured Mask
Moby ID: 100412
Following the events from previous episode, Bruce struggles to maintain his cover while infiltrating the most dangerous criminal organization known as The Pact, as his old flame, Selina, also known as the Catwoman, appears on the scene. But Catwoman isn't there just to help The Pact because they pay well, she has a hidden agenda which may collide with Batman's plans.
Whether Bruce is going to let Selina have it her way or try to beat her to it no matter the cost, it's in player's hands through various choices that branch the story based on selected actions as in previous episodes. Aside from being able to use some new gadgets, gameplay remains basically the same letting the player freely explore and interact with items and characters during exploration, and using quick-time events during action scenes with timed responses during dialogues.
Aside from intrigues with the Catwoman, joggling loyalties between GCPD and the Agency, and keeping his cover in The Pact intact, both Batman and Bruce can keep on developing relationship with John Doe making him more and more like them or push him off toward Harley and the rest of the gang. The episode climaxes with Bruce taking the blame for Catwoman and revealing himself as a spy or letting the woman he loves freeze to death instead as a punishment devised by Harley.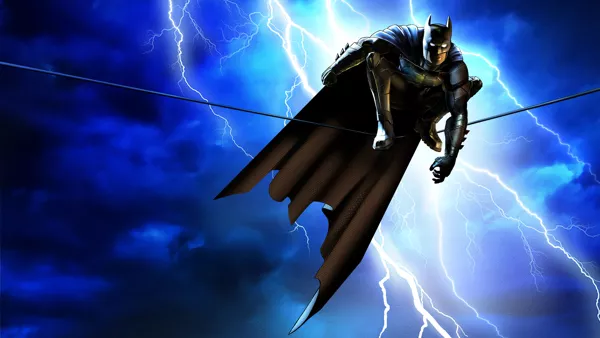 Credits (PlayStation 4 version)
490 People (341 developers, 149 thanks) · View all
Creative Leads, Season Lead Designer
Creative Leads, Season Supervising Director
Creative Leads, Season Lead Writer
Written by
Designed by
Directed by
Art Direction by
Music by
Content Programming
UI Programming
Animation
[ full credits ]
Critics
Average score: 75% (based on 2 ratings)
Players
Average score: 4.7 out of 5 (based on 1 ratings with 0 reviews)
Be the first to review this game!
Contribute
Are you familiar with this game? Help document and preserve this entry in video game history!
Contributors to this Entry
Game added by mars_rulez.
Additional contributors: MAT.
Game added December 30th, 2017. Last modified May 16th, 2023.