(prices updated 10/1 10:50 PM )
You are a mutant human, who by some freak of nature has the ability to shoot energy pulses from his body in eight different directions! Your job is simple: save humanity from their own creation -- the ROBOTRONS! The gameplay is pretty unique for the time. You can move and fire in any of eight directions. You get thrown in a room with various evil baddies strewn about, you've got to kill all the robots while at the same time finding some way to grab humans and avoid death.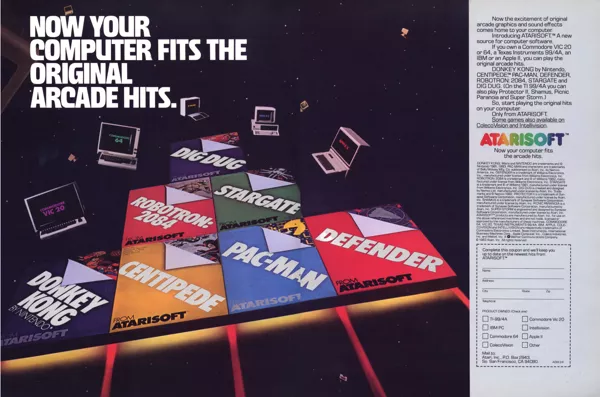 Credits (Arcade version)
7 People
| | |
| --- | --- |
| Design | |
| Programming | |
| Cabinet art | |
| Character Graphics | |
| Hardware | |
Critics
Average score: 78% (based on 26 ratings)
Players
Average score: 3.5 out of 5 (based on 75 ratings with 2 reviews)
The Good
Ok, they made technically good PC port of actually very good, almost iconic Arcade game.

The Bad
This game is not suitable for porting to personal computers. On Arcade, it was played with 2 tough joysticks where you were able to move with them like crazy. On PC, forget. You can use either keyboard or only one joystick. If you survive with keyboard control for more than several dozens of seconds, probably you have some inhuman abilities (you control with one hand walking into 8 directions with one set of keys, and independently with other hand another 8 keys for fire direction). With joystick/controller it's a bit better (however you can't independently control walk/fire directions like in original Arcade, but at least you survive longer compared to crazy keyboard controls).

The Bottom Line
Game was perfect on Arcade machines, but it's not suitable for PC. There are better arcade titles available on PC from the same year.
PC Booter · by Vladimir Dienes · 2023
Intruder alert! Intruder alert!

The Good
Robotron: 2084 is a game that is a bit too hard for me. The Apple II version has states clearly what the story is: In the year 2084, man perfects the Robotrons, which are so advanced that he is inferior to his own creation. After discovering their unique ability, the Robotrons decide to destroy the human race, and take the last family hostage. Your job is to kill all the robots that get in your way (who have different ways to kill you), and save this family before they get turned into deadly Progs.
There are severals waves in which you have to do this. Once you have completed your objective, you move on to the next level. If a robot touches you, or shoots at you, you get electrocuted and lose one life. But there are several other enemies besides robots that you have to worry about, such as hazards that lay around that could destroy you or the robots. You get some points by saving one member of the family, but you can enter the next level without doing this.
The Commodore 64 version, and all other versions for that matter, look and play the same as the coin-op version. However, the advantage of the home versions is not only can you still run and shoot at the same time in all directions, but you don't have to control two joysticks: one for running, and the other for shooting. This gives you an advantage over robots that shoot, as the robots cannot shoot diagonally at you. The game gets difficult at Wave 5 onwards with about twenty robots moving all over the place, and different robots who shoot at you if you are not careful.
The graphics in the C64 version are average. The characters are much bigger than the ones from the coin-op version, and I like the title screen, where several Williams logo in different colored circles rotate around the screen, and I quite like the way that the "2084" in the title is written.

The Bad
Nothing.

The Bottom Line
The game is a bit difficult for me, so next time, I might as well play a game of Berzerk instead.
Rating: ***
Commodore 64 · by Katakis | カタキス (43051) · 2004
Trivia
1001 Video Games
The Arcade version of Robotron 2084 appears in the book 1001 Video Games You Must Play Before You Die by General Editor Tony Mott.
Inspiration
The game was inspired by the arcade game Berzerk and the Commodore PET title Chase.
Control scheme
The original arcade version of Robotron: 2084 was played with two joysticks, one to move and one to fire. The Atari 5200 version of the game also uses this same control scheme; to make operating two 5200 joysticks easier, a special "controller holder" was bundled with the game. Robotron: 2084 is one of two Atari 5200 games to utilize this, the other being Space Dungeon.
Atari 7800 launch title
Robotron: 2084 was one of the "Fabulous Eleven" launch games for the Atari 7800.
PC quality conversion
This is one of the better Atarisoft conversions; everything is very faithful to the original, single joystick control is very good, and there is practically no slowdown on a 4.77MHz machine. This is notable because the Atarisoft conversions of the early 1980s varied wildly in quality, from faithful to extremely poor.
TI-99/4a / ZX Spectrum port
Atarisoft planned to sell a cartridge conversion for the Texas Instruments machine and the in Interface II form for the ZX Spectrum, but the releases were cancelled. The game is nevertheless in circulation in prototype and image form.
Awards
Game Informer Magazine

Issue 100, August 2001 - #72 in Top 100 Games of All Time poll
Information also contributed by PCGamer77 Servo, Trixter and FatherJack .
Contribute
Are you familiar with this game? Help document and preserve this entry in video game history!
Contributors to this Entry
Game added by Trixter.
Browser added by HelloMrKearns. Apple II added by KnockStump. Lynx added by Lars Norpchen. Macintosh, BBC Micro, Xbox 360, Electron added by Kabushi. Arcade added by Pseudo_Intellectual. Antstream added by lights out party. Atari 5200, VIC-20, Atari 8-bit, Atari 7800, Atari ST added by Servo. Commodore 64 added by wanax.
Additional contributors: KnockStump, formercontrib, Trypticon, Starbuck the Third, S Olafsson, FatherJack, 64er.
Game added April 20th, 1999. Last modified October 2nd, 2023.