Mortal Coil: Adrenalin Intelligence
aka: Mortal Coil
Description
The year is 2005. Mortal Coil is the code name of a covert agency of crack undercover mercenaries funded by first world governments. Its role: to investigate a series of sabotages and terrorist attacks on key research installations. Their brief: find the terrorists and terminate.
The game itself is a team-based first person shooter with a real-time waypointing system allowing players to give missions to his/her teammates, strategical commands like breaching rooms from different situations like doors, corners, t-junctions and open areas. The AI of the teammates allows them to react to enemy movements and other targets. With an arsenal of 11 weapons and other equipment, you have to eliminate 18 different types of enemies in 7 different and long missions.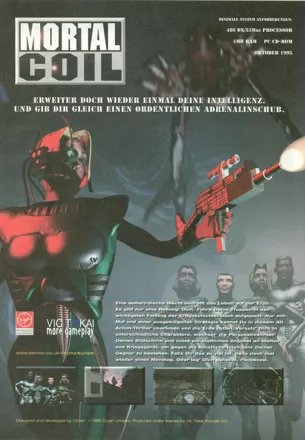 Credits (DOS version)
50 People (43 developers, 7 thanks) · View all
Candy
Dan/Narrator
Peech/Elevator/President of the First World/Director of Mortal Coil
Dred
Control/Professor Shatarian General/Soldier/Suit/Alien Master
BB
Raz MacDonagh
Screenplay
Script Assistance
Gameplay
Technology
Utilities
Artwork
Modelling and Sequences
Sequence Design
Art Support
Concept
Based on the Candy comic strip character designed by
[ full credits ]
Critics
Average score: 56% (based on 10 ratings)
Players
Average score: 2.8 out of 5 (based on 7 ratings with 1 reviews)
The Good
Innovative game for it's time. Has many of the features, that made games like Rainbow Six, classics.It also contains nudity in the intro, so you don't have to play to see it. This game also featured a female hero, who could have been an virtual idol, much like Lara Croft. Too bad Candy was forgotten because the game itself sucks. Few weapons are actually quite cool to use, and all of them look nice in the game. Some actors in cutscenes aren't that bad. Also the story or plot is quite interesting

The Bad
Programmers must have been drunk when they made this game. There are so many and so critical bugs, you can't even get past the third stage, unless you update it. Even after updating, game works badly, and crashes time to time. Even cutscenes doesn't work like they should. Controls are perhaps worst ever in a 3d shooter. Graphics get bit foggy from time to time, and the game doesn't look that good at any point. Enemies look like random piles of pixels, and make absolutely no sense. Doom or even Wolfenstein 3d had better graphics - two years earlier. Both enemy and team AI is just a load of bull. In game like this, it would be nice to know how to save or restore the game, without taking a wild guess. Perhaps writing "ctrl + s" in the manual or somewhere in the game, would just be too much luxury for an average gamer. Weapons, even if they do look good, doesn't fit rest of the games graphics. Looks like they are made in better resolution than everything else.
I guess they tried to make some kind of personalities for characters, but in result you get teammates, who are just a band of idiots. Men (Dan & Dred) are nothing but retarded morons on steroids. Why do they tell same jokes over and over again, every 30 seconds? Those jokes were bad fist time, why would they get any better when repeated over and over? Also they joke about dead teammates, which is really annoying and also cruel. Two women (Candy & Peach) in the team are just uptight witches. Peach is actually the least annoying character in the game, as she only speaks when there is something to say, and has no real personality. Candy is just an angry feminist, with bad hair day (but only during the gameplay, in cutscenes she actually acts like quite awesome heroine). Teammates warn you about aliens even when there aren't any. They obviously have hallucinations, as they shoot around at nothing. Yet, they rarely shoot at or warn about aliens when sighted.
I almost forgot. Just try to get your team in and out from a pit, that takes two jumps to get out. It will drive you insane!!!

The Bottom Line
Curiosity as it was quite innovative for it's time. Innovative or not, hour of playing Mortal coil, is like million years in purgatory. Test it if you really need test every game out there. If you like play just for fun, avoid Mortal Coil like the plaque.
DOS · by Hannu Siivonen (15) · 2007
Contribute
Are you familiar with this game? Help document and preserve this entry in video game history!
Contributors to this Entry
Game added by Dae.
Additional contributors: formercontrib, Patrick Bregger.
Game added October 7th, 2003. Last modified August 17th, 2023.