Forge: Pathfinder VIP Pack
Moby ID: 102810
Released

Credits

Publishers
Official Description
Forge Pathfinder VIP Pack
To Celebrate the release of Teams in Forge we are offering all the Armor you need to intimidate your opponents when playing the Pathfinder including the Sun Armor, the Bivrust Armor, and the infamous Bardajalmor Helm. Pack includes VIP access to Forge which grants you access to creating Guilds as a Guilds Master and extra team slots for your teams.
This Pack Includes:
* Pathfinder Sun Armor Set * Pathfinder Bivrust Armor Set * Pathfinder Bardajalmor Helm * VIP Status
Pathfinder Sun Armor Set


The Vaklndr recognized the strength of the sun and created this armor in its likeness, forging it at the exact moment when the sun burns hottest and highest in the sky. Lined with the iron found in the mountains of Mitgarde, this armor is endowed with strength and beauty. Same in size and weight as its Shadow armor counter, its stealth benefits stem from daytime usage.
Pathfinder Bivrust Armor Set


It is said that there was once a rainbow bridge that connected Mitgarde to Astgarte, the dwelling of the gods. When The Devourer swallowed the gods, that rainbow bridge crumpled, the colors separating and falling towards the earth like brightly colored crumbs. These pieces were discovered by the Vaklyndr at night when they lit up the ground where they lay. Each class has taken a different color and forged it into their armor, wearing what once connected us to the gods for protection and strength in their fight to free their gods.
Pathfinder Bardajalmor Helm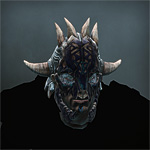 By wearing these helms, you are proclaiming your allegiance to the gods you wish to free from The Forge. They not only provide the wearer with the confidence that comes from mimicking the warrior of the gods, the paint holds the core of the gods strength within it. You hold the strength of the gods as you continue to fight for their freedom. They are also good for intimidating any enemies that may cross your path.
Source: Steam Store Description
Contribute
Are you familiar with this game? Help document and preserve this entry in video game history!
Contributors to this Entry
Game added by Charly2.0.
Game added February 12th, 2018. Last modified February 12th, 2018.