The Simpsons: Hit & Run
aka: Les Simpsons: Hit & Run, Os Simpsons: Hit & Run, Xingpuseng Yijia: Da Dai Pao
The Simpsons: Hit & Run can be best described as Grand Theft Auto in Springfield.
The player takes on the role of Homer, Marge, Bart, Lisa or Apu and tries to uncover a mystery surrounding mechanical bees that are taking over Springfield, mysterious vans, and cola that can control the minds of those who drink it.
Like GTA, the game follows a linear-based path through fifty plus missions. The player will have to chase cars and find out where they're headed, grab all the spilling cola cans before people can drink them, and chase down villains before they get away.
Throughout the course of the game, the player can unlock tons of rewards by completing missions in a set amount of time or performing outstanding stunts.
All voiceovers are performed by those who act in the show, including Dan Castellaneta (Homer), Julie Kavner (Marge) and Yeardley Smith (Lisa).
The game supports multiplayer action for up to four players.
Spellings
辛普森一家:打带跑 - Chinese spelling (simplified)
심슨가족: 히트앤런 - Korean spelling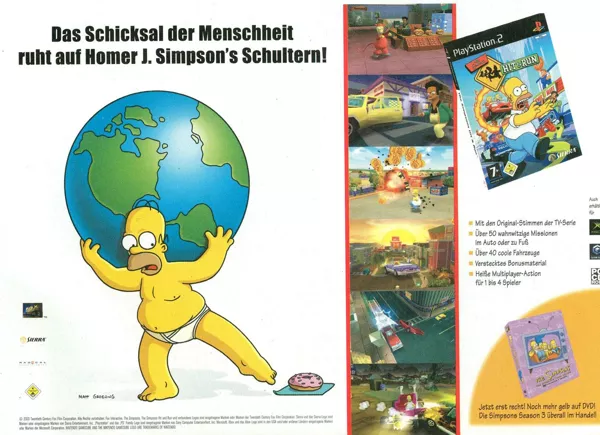 Credits (PlayStation 2 version)
250 People (175 developers, 75 thanks) · View all
Producer
Associate Producer
Vice President of Technology
Publishing
Vice President of Marketing
Marketing Directors
Assistant Marketing Manager
Director of Public Relations
Creative Services Director
Creative Services Manager
Senior Designer
Account Manager
Manual Layout
Vivendi Universal Games Special Thanks (Marketing)
[ full credits ]
Trivia
Advertising
Most, if not any, advertising in this game are actually references to previous episodes. For example, the Itchy and Scratchy Movie poster was used in an episode where Bart is grounded from seeing said movie.
Cut content
There's quite a gaggle of cut content for The Simpsons Hit and Run. These range from unused voice clips, vehicles, character models (Agnes Skinner being one example), mission objectives, graphics and more. You can look up all missing content on The Cutting Room Floor.
Christmas
On Christmas day (December 25th), Homer's character in the main menu is dressed as Santa Claus.
Lionel Hutz
There are billboards throughout the game advertising the legal services of Lionel Hutz. Matt Groeing, producer for the Simpsons, retired Lionel Hutz and Troy McClure when Phil Hartman tragically lost his life.
Music
The hoity-toity music you hear in the Stonecutters hallway is the Spring of The Four Seasons by Antonio Vivaldi.
Awards
Computer Games

March 2004 - #10 Best Game of the Year 2003

GameSpy

2003 – Most Pleasant Surprise of the Year (PC)
Information also contributed by PCGamer77, Pizzaking27, Scott Monster.
Contribute
Know about this game? Add your expertise to help preserve this entry in video game history!
Contributors to this Entry
Game added by clef.
Windows added by Sciere.
Additional contributors: Unicorn Lynx, JPaterson, chirinea, Daniel Albu, Sciere, Xoleras, Cantillon, Patrick Bregger, Rik Hideto, Tony Denis.
Game added September 26th, 2003. Last modified May 12th, 2023.