Description
In Ghoul School the player is cast as Spike O'Hara, a senior at Cool School High in a small American town. Spike is a rebel and an outcast, but is a good kid. While taking a shortcut through the graveyard home one day, he comes across a glowing skull. Intrigued, he takes it to Dr. Femur, his anatomy teacher, the next day, which happens to be the day before Halloween. Dr. Femur wants to keep it for an overnight study, and Spike reluctantly agrees, noticing that the skull appeared bigger than the day before.
During the night, the skull begins transmitting a message to the realm of the dead. On Halloween, the dead begin their assault. The teachers and students inside are turned into zombies and demons under the control of whatever intelligence has taken over the school. Samantha Pom-Pom, the head cheerleader, is captured by the dead and held somewhere inside the school. Paranormal eliminators and members of the football team have ventured inside to find her, but have not returned. When Spike learns of the mess from the TV news, he rushes to the school and decides to rescue her himself.
Spike ventures inside. The doors shut and lock behind him. There's no turning back now.
Spike begins his quest with only his trusty baseball bat and battered sneakers, but can collect better weapons and shoes along the way. Among them are the straightforward sickle, embalming fluid, towel and almighty gamma gun, the strange Deweytron and taserlike Spinal Zap, and a sandwich (if it can be used as a weapon, they should have fired the cafeteria workers a LONG time ago), among other weapons. Useful items include the spring shoes, needed to reach high places, the suction shoes, which allow you to walk on the ceiling, and the Golden Apple, needed to bypass the Medusa head guarding the way to the second half of the school.
Get going! You have 129 rooms to explore and Samantha is counting on you. Good luck.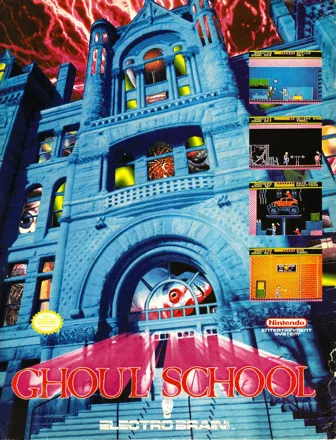 Credits (NES version)
7 People
| | |
| --- | --- |
| Produced By | |
| Story | |
| Program | |
| Music | |
| Graphics | |
| Additional Programming | |
| Additional Graphics | |
| Design/Direction | |
| Photography | |
Critics
Average score: 33% (based on 7 ratings)
Players
Average score: 3.5 out of 5 (based on 11 ratings with 1 reviews)
The Good
I loved the clean lined graphics. It felt like you were playing in somebody's amateur comic book! It don't look like Halo, but it has a kind of cartoonish freedom, and looks great. For such small characters and rooms, there is surprising detail.
The game is simple, cruise the halls, rooms and lockers looking for a way to beat the alien monsters infesting the school. It is a surprisingly large place to roam, and there are lots and lots of rooms to search.
The weapons are simple, bat, towel, running shoes and then better weapons later.
You are stopped from entering some areas until you have found the things you need to beat the monsters on other levels.
You have to figure out how to use the things you find to advance also, so it's not a simple run and gun, but a problem solving game too.
It has it's own unique charm.

The Bad
I only wish they had expanded it. Once you find the stuff you need it isn't too hard to beat. They should have made it deeper and a tad more difficult.
A bit more interaction would have been nice also. It got a bit boring with only you and the eyeball monsters, with nobody else to chat with. It got lonely!
I would have liked to see some outdoors stuff too.

The Bottom Line
A game that has it's own charm, it is unique in it's look (maybe "A boy and his Blob" would come close.) Lots of exploration, lots of rooms and a weird assortment of baddies to battle makes this a keeper. Being an odd and probably rare game, it belongs in a collection. No gore at all makes it fun for the tykes!
NES · by Oblio (97) · 2006
Contribute
Are you familiar with this game? Help document and preserve this entry in video game history!