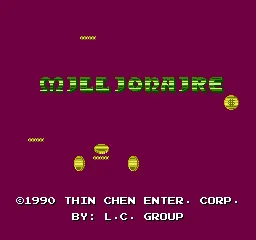 Description
Millionaire is a version of the popular board game Monopoly. The rules are pretty similar to the original, but the places in the board are the most noticeable difference. Instead of pieces of land with street names, the board features country names, such as Spain, Turkey or Switzerland. After buying such places, players can build houses or hotels.
Another place called Wine Plant works the same as countries. There is a Forbidden Zone that sends players that land upon it to the Jail. Once in the jail, the player stays there for 3 turns (or before with a free from jail pass). In the Bank, shares can be bought and have their values increased or decreased and later be sold. In the Casino, a game of cups and balls can be played. In "!" and "?" places, players chose among three cards facing down, each card with a different effect, such as increase in stocks values, free from jail passes, or even fire that destroys all buildings. Finally, there is also an Insurance place, where players can buy insurance for their buildings.
Up to four players can take turns in this game. Each one starts with 7.500 dollars, and leaves the board when there's no money left to pay the bills. The last player standing wins.
Contribute
Know about this game? Add your expertise to help preserve this entry in video game history!
Contributors to this Entry
Game added by chirinea.
Last modified February 22nd, 2023.