Crystalis
aka: God Slayer - Haruka Tenkuu no Sonata
Moby ID: 11147
October 1st, 1997 is known as END DAY. A great war encircles the globe and brings about an end to civilization. The surviving humans concluded that they could never repeat their mistakes and build a great tower in the sky to watch over the world and act accordingly to combat "evil". One hundred years have passed since then and a hidden cryogenic chamber in the mountains springs to life...
Crystalis is a top-down action role-playing game. Starting from the cryogenic chamber, the player takes the role of a mysterious hero who must uncover the mystery of the tower. The character may equip weapons, armor, shields and globes or bracelets on his body and a single item from his inventory for use in the field. To aid the hero on his quest, four wise people will gradually teach him offensive and healing magic, which requires MP to use.
The protagonist will also obtain four elemental swords which will help him progress. Each sword can be charged for a powerful ranged attack; if special items are found, this attack can be enhanced for two additional levels. The hero gains experience and gold from defeating monsters. The experience is used to gain levels and improve statistics, however a minimum level is required before one can do damage to specific bosses. Gold is used to purchase items in shops.
Spellings
God Slayer: はるか天空のソナタ - Japanese Spelling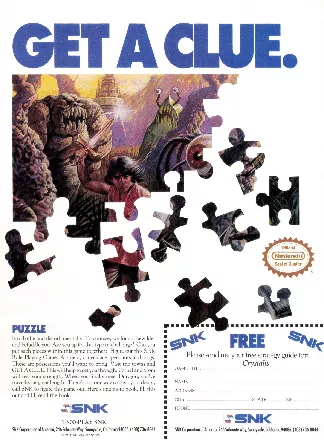 Credits (NES version)
22 People (13 developers, 9 thanks)
Critics
Average score: 83% (based on 21 ratings)
Players
Average score: 3.8 out of 5 (based on 38 ratings with 3 reviews)
The Good
The story line of this game is a strong point. It's not especially original, but it is very prominent. There are many cut-scene narratives throughout. Your mission is of the save-the-world from the big-bad-thing type; where the final area is a hyper-technological tower floating in the sky.
There is something of an epic scope with all the areas that you progress through. You go through plenty of labarynthine dungeons, mountains, deserts, towns, a toxic swamp -- you even travel the sea upon a dolphin!
To keep things interesting there are several puzzles to solve -- though it can get annoying when you can't advance because of some obscure puzzle.

The Bad
The leveling up process, though not difficult, is very tedious. You must kill monster after monster... after monster. It is not a question of skill, rather one of patience. This underscores the greatest weakness of the game -- it is too easy if you take the time to level up by killing scads of monsters . The monsters are not very bright either, so there's not much joy in killing them.

The Bottom Line
This game provided many hours of entertainment despite some annoyances. Crystalis is firmly in the zelda-style rpg/action tradition, and anyone who enjoys that genre will likely enjoy this classic.
NES · by Zukunft (3) · 2004
Complete Action-Orientated RPG package

The Good
This game has a great artistic style to it, a rich color palette and quality music. The gameplay is addictively fun, the plot is rich with it's intertwining of technology and magic, and the landscapes are prime examples of 8-bit pixel mastery.
Combat is simple and enjoyable. 4 swords, 3 charge attacks, and a variety of styles of execution against your enemy hordes. While the monsters are mostly simple creatures marching towards you, the difficulty is increased by making you stand still to charge your sword, thus creating a system of bait and hit. Better yet is when your enemies are equipped with their own weapons.
For an added difficulty bonus, you can engage in faster pace melee combat by button mashing your attack rather than charging, making life and death much more prevalent than the defensive bait and hit.

The Bad
Too easy to beat and no hard mode, and not enough actual logic puzzles. Also unfortunate (though perhaps intentional) is cave mazes become very repetitive as all the walls look exactly the same. This becomes almost mind boggling, and would've greatly been improved with a bread crumb system.
But most importantly, no sequel!

The Bottom Line
Crystalis is a fast pace action orientated RPG with an excellent story line. Crystalis is timeless cult classic; a must play for all would-be gamers, developers, or artist
SNK's unrecognized masterpiece RPG provided the essential elements of character building and travelling now mirrored in contemporary games. It appears deceivingly simple, but was beautifully sculptured. In comparison to modern gaming, it can be seen as a fine-tuned crafted artwork, a minimalist approach that took more time to make it short and all the sweeter.
NES · by patrick quinn (6) · 2009
Really great and involving original RPG...

The Good
A very involving storyline and the first with a well-balanced mix of sci-fi and fantasy that I played. The first game I played where they killed off established characters. I remember one scene in the game in particular where you go to this town of wizards and wizard trainees and are told to continue on with your questing, then you get this urgent flash message some time later telling you to return quickly and when you return, the whole town has been massacred. Totally a "No way..." feeling, especially then when it wasn't the standard to wipe out entire towns. Gets you a little more involved than other RPG's of the same time period.

The Bad
Obviously graphics, but thats the great part of RPG's at that time. The storyline had to make up for the lack of technology.

The Bottom Line
Swept me off of my shoes back in the day...I remember playing it for days and always something new was happening. Time to scroll around and explore and gain experience, but its not entirely at your own pace as you are prompted by current events in the game...so much more proactive/reactive play than other RPG's of the same time period. I considered it pretty revolutionary and different, as a young 10 year old master of the RPG.
NES · by Cormana6868 (12) · 2004
Contribute
Are you familiar with this game? Help document and preserve this entry in video game history!
Contributors to this Entry
Game added by Shoddyan.
Nintendo Switch added by Rik Hideto. Game Boy Color added by Freeman.
Additional contributors: Unicorn Lynx.
Game added November 30th, 2003. Last modified September 1st, 2023.