Test Drive: Off-Road - Wide Open
aka: Off-Road: Wide Open
(prices updated 9/19 8:16 AM )
This is the successor to Test Drive: Off-Road 3. In this game, the player controls one of 13 American Four By Fours through Hawaii, Moab, or Yosemite to be crowned King of The Off-Road. The player can race in a single, arcade race, take a complete free ride, or race in career mode. There are three kinds of racing to master: Circuit, Blitz, and Scramble.
Circuit Races are exactly as they sound. The player howls around a course through checkpoints before time runs out at least twice.
Blitz Races are considerably shorter than Circuit Races. The strategy for racing itself is not much different, except the race is in a linear fashion of point A-to-B.
In Scramble Races the player roars around an area "collecting" checkpoints in a random location as fast as possible. These are the shortest races in the game.
This game can be played by two players.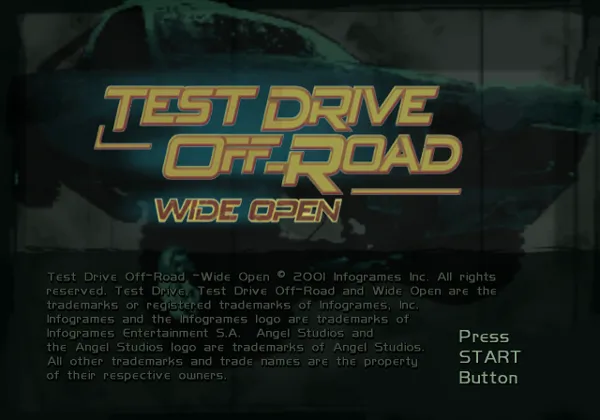 Credits (PlayStation 2 version)
138 People (98 developers, 40 thanks) · View all
Executive Producer
Producer
Designer
Lead Programmer
Technical Director
Lead Artist
Art Director
Sound Designer
Level Design
AI Programming
Game and Effects Programmers
Terrain Engine Programmer
Tools Programmers
Vehicle Modelers
3D Artists
[ full credits ]
Critics
Average score: 66% (based on 20 ratings)
Players
Average score: 3.3 out of 5 (based on 7 ratings with 1 reviews)
Solid off-road racer lacking in features

The Good
Test Drive's off-road spin off series didn't get off to a great start. The first one was absolute rubbish, the second one was an improvement but not by much. The third game, on the other hand, I have very fond memories of, so I was eager to check out the fourth and last title in the TD off-road series and fortunately Wide Open is among the good ones. The game generally lives up to its title featuring three vast areas (Hawaii, Moab desert and Yosemite National Park) where you can free roam.
This Xbox version packs more content than the PlayStation 2 original. There's a stadium race mode, Moon level, two extra vehicles (Chevy Avalanche and Moon Buggy) and it supports 4 players. There are 18 off-road vehicles to choose from. The 12 standard cars feature the likes of Jeep Wrangler, Chevy Blazer, Dodge Ram, Ford Bronco, Mercedes-Benz ML430 and, of course, the Hummer in both wagon and soft top versions. Each has a stock, modified, pro and unlimited versions. There's 6 special vehicles as well, such as Humvee, Shelby Durango, monster truck and my personal favourite - the mighty Dodge T-Rex 6x6. Vehicles are divided into power and speed classes. Power accelerates and climbs better while speed goes faster so you need to pick your route accordingly.
The soundtrack is good, there's 12 songs in total (and not 14 as advertized on the back of the box). Metallica's "Fuel" is the featured title and its a great fit. In addition to rock/metal songs from 8 Degrees, Celldweller, Fear Factory, Phantom Black, Quarashi and Unloco there's some breakbeat tracks from 303 Infinity and Digital Assassins as well. It may not be for everyone's tastes but I think it matches the off-road racing action rather well.

The Bad
The open nature of the locations is mostly wasted. A great feature would have been some kind of race editor where you can set your own checkpoints to create custom races. Because as it is there's not really that much to do in Wide Open. In terms of single player there are 12 tournaments in Career mode, 27 single races, plus the Xbox exclusive 18 stadium events (you can only drive the unlimited class trucks in these events and they handle like crap with terrible understeer so I didn't find them fun at all plus there's no reward for completing them). Also, if you make a game with free roaming you have to give the player at least some incentive to explore, sadly the only thing you can do in Wide Open is search for nine Blue Moon Cafe signs (3 in each location) to unlock the Moon level.
Multiplayer is a mixed bag, on one hand the Xbox version supports 4 players. Four players can free roam around the four locations and take part in all of the races but there's no AI. Only in two players mode you can compete against six AI drivers in single races and stadium events. However you can't make custom tournaments, there's no knockout races, you can't select different weather conditions, night races or even something as basic as number of laps. In King of the Hill mode you need to stay in a circle to gain points while fending off the other players from pushing you out. Though some may like it, I personally found this mode dull, like something off one of those cheap mini game compilations.
The AI drivers are needlessly aggressive and can spin you around with the PIT maneuver real easy, but you can't return the favour. This can make the races quite frustrating. The steering for some cars feel rather sharp and twitchy, add the fact that some cars are extremely easy to tip over on to the roof and you sometimes get the feeling that you're controlling RC cars instead of 2-3 ton rugged off-road machines. Out of all the Test Drive Off-Road games, this has the most one sided car list, everything besides the Mercedes is American. There's no Land Rover, Nissan, Mitsubishi, Isuzu or Toyota.
Wide Open was one of the launch titles for the original Xbox in the U.S. and though it doesn't look bad it's clearly a PS2 port thus doesn't really show off the Xbox's power. Vehicles look alright, but they certainly lack the detail. Water and fire look rather flat. Damage modeling is barely present, and basically amounts to just your spare wheel(s) and mirrors falling off. Replays are very basic, you can't select a different angle or focus on other cars. Menu selection requires the use of the directional pad instead of the thumbstick. Options are bare bones. For example, the only way to turn the announcer off is to turn off the entire sound effects. And frankly you won't be missing much because the engine sounds are subpar. Instead of proper base rumbling torquey sound, here you get something that sounds more like blenders or lawn mowers. Environmental sound effects are minimal, mostly consisting of looped bird chirping and coyote howling. The Dolby Digital 5.1 mix is okay but if you're expecting proper positional audio - hear from which side a competitor is coming up behind you, you're not gonna get that here. And though the soundtrack is good it's also very limited with just 12 songs in total and will get a little repetitive sooner or later but unlike the other two Test Drive games on Xbox, this one doesn't support custom soundtracks.
A rather unconventional feature of this game is that you can change the pitch of your truck in mid-air with the right analog stick. Though its fun doing front/back flips and barrel rolls on the moon in a 6x6 moon buggy, otherwise I found this feature bizarre and more belonging to a trick game rather than an off-road racer with cars.
All races are checkpoint based and it isn't very forgiving, miss a checkpoint by a millimeter and you'll have to reverse it. If you've played Smuggler's Run you will notice a lot of similarities with this game in that regard, and no surprises there because not only it was made by the same developers Angel Studios (now known as Rockstar San Diego) but they also share the same game engine. And essentially Wide Open does feel a lot like Smuggler's Run only with licensed cars but without cops... and smuggling stuff.

The Bottom Line
Wide Open is a solid arcade-style off-road racer worth a look, but ultimately, despite the extra content in the Xbox version, the game's CD roots (on PS2 it came on CD) are apparent as its lack of features means that after some 2-3 days, once you've seen all the game has to offer, there's not much reason to come back.
Similar games on the Xbox are slim pickings with only another launch title 4x4 Evo 2 coming to mind. If you like Wide Open definitely check out the Smuggler's Run series and for open world off-road games you might want to give FUEL a shot.
Xbox · by Infernos (42032) · 2014
Contribute
Know about this game? Add your expertise to help preserve this entry in video game history!
Contributors to this Entry
Game added by The Imperial Darkhorse.
Additional contributors: Infernos.
Game added January 25th, 2004. Last modified February 22nd, 2023.