A side-on scrolling shoot-em-up with a twist: You play as a wasp (actually a man turned into a wasp) seeking revenge for the death of his girlfriend, Yuri, at the hands of the evil Hexaae! Levels include going through a garden (fighting other insects) and a sub-level in the intestines of a rotting rat(!). Designed to look Japanese, this game was actually developed in Germany.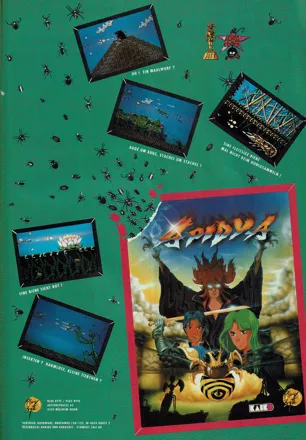 Credits (Amiga version)
17 People
| | |
| --- | --- |
| Main Program | |
| Design | |
| Graphics | |
| Music | |
| Produced by | |
| Executive Producers | |
| Cover Art | |
| Super Nes Infos | |
| Additional Programming | |
| Additional Design Pike | |
| Additional Design Level4 | |
| Game Testing | |
| Biggest German Designer | |
| 7 Voice Know-how | |
Trivia
Title
Kaiko really wanted to make this game look like an arcade conversion, including a Japanese title. However, the Japanese title says "Abija" instead of "Apidya".
Actually, the real name of the game is Apidya II (Apidya 2), even though there's no first part. According to Chris Hülsbeck, the "II" in the name of the game was "a gag to provide for some excitement" (from Kaiko history at http://www.nemmelheim.de/).
Bonus levels
Five bonus levels were designed for the game, but a bug in the collision detection on the original Amiga version meant that activating the one on level 4 was impossible. A patched version has been produced to run via WHDLoad
Awards
Amiga Joker

Issue 02/1993 – Best Action Game of 1992 (Readers' Vote)
Information also contributed by Игги Друге.
Contribute
Know about this game? Add your expertise to help preserve this entry in video game history!