John Saul's Blackstone Chronicles: An Adventure in Terror
aka: John Saul's Blackstone Chronicles: Het gesticht des doods, John Saul's Blackstone Chronicles: L'Asile Maudit, John Sauls Blackstone Chroniken: Ein Abenteuer des Schreckens
Moby ID: 1214
It is just a few days before the town of Blackstone's landmark mental hospital is opened as a Museum of Psychiatric History. The restoration efforts of the Blackstone Historical Society have reawakened the evil that dwells within the old building. As Oliver Metcalf, the son of the hospital's last superintendent, you have been trapped inside the walls of the Blackstone Asylum. You are compelled to explore its haunted halls, discovering its secrets and solving its mysteries. Yet your only clues to the Asylum's past are locked in the minds of its ghostly inhabitants.
The hospital witnessed many deaths in its short, but bloody history. Now you must find your son before the madness claims another victim...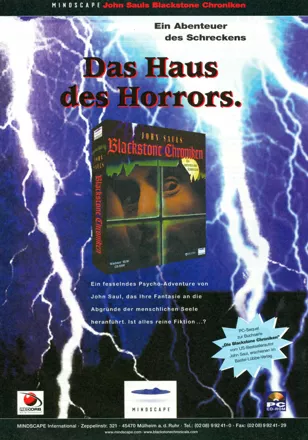 Credits (Windows version)
78 People (74 developers, 4 thanks) · View all
Producer
Associate Producer
Marketing Manager
Production Assistant
Lead Tester
Mindscape Testers
Additional Testers
Test Supervisor
Localization Coordinator
Manual Author
Graphic Design & DTP
Media Engineer
Audio Engineering
Install Programmer
[ full credits ]
Critics
Average score: 71% (based on 21 ratings)
Players
Average score: 3.5 out of 5 (based on 32 ratings with 0 reviews)
Be the first to review this game!
Trivia
Extras
Some editions of this game came with a free trade paperback of all six Blackstone Chronicle stories (a $14.95 value).
Inspiration
This game is based upon six small novels written by John Saul.
References
On the patient records computer (after starting a new game, up the stairs and left), there is a record for John Saul.
Information also contributed by ClydeFrog and Itay Shahar
Contribute
Are you familiar with this game? Help document and preserve this entry in video game history!