Description
Awesome is a multi-section space-based game. The plot involves an attempt to get across a harsh galaxy despite not having the funds or firepower to make it.
To reach each planet the player has to progress through numerous action sections, starting with some overhead-view shooting of rocks which break into progressively smaller blocks, a scanner tells the player roughly where they are located. This is followed by an into the screen shoot-out against an enemy flying backwards and forwards, and then the final approach to the trading centre, which involves the player progressing on foot from an overhead view, and sees contact with the enemies lose time rather than energy – the player has 3 attempts to get there in time.
Once the player reaches the planet, a trading aspect comes into play. Strategic purchase of the right equipment to boost the ship, as well as extra shields and firepower (which can be balanced depending on the next level).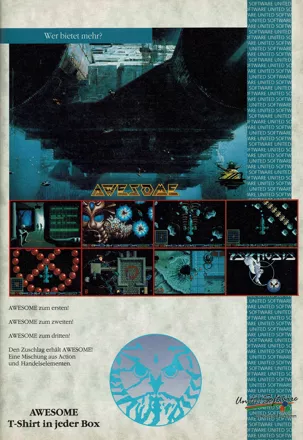 Credits (Amiga version)
10 People
| | |
| --- | --- |
| Design by | |
| Programming by | |
| Graphics by | |
| Music by | |
| Cover Artwork by | |
| Intro Artwork by | |
| Logo and Lettering by | |
| Text by | |
| Manual Illustrations by | |
| © 1990 | |
Critics
Average score: 76% (based on 11 ratings)
Players
Average score: 3.7 out of 5 (based on 10 ratings with 1 reviews)
Essentially lives up to its name

The Good
Reflections were always famed for their graphics and sound capabilities,and this game took them to the limit. The music is thunderous and inspiring, and the graphics detailed, colourful and suitably metallic. The into-the-screen sections use some particularly impressive sprite manipulation.
Having a variety of sections makes things varied, and the trading aspects break up the flow nicely. It seems to be possible to succeed in the game without being spectacular at one, as long as you are effective at the others.
The plot is rich and imaginative, leading to a real feeling for the character, and a sense of wanting to succeed.
That said, there are advantages to failure - the Game Over sequence has the most poignant heartbreaking music you'll ever hear in an Amiga game.

The Bad
The sections on the base of the planet were often too difficult, and the system of having contact deducting time didn't quite work. It was all too easy to lose 10 seconds with just one split-second misjudgment - hardly fair.

The Bottom Line
A mixture of different shoot 'em up styles, hung around trading aspects, which will keep you busy through the night.
Amiga · by Martin Smith (81434) · 2004
Contribute
Are you familiar with this game? Help document and preserve this entry in video game history!
Contributors to this Entry
Game added by Martin Smith.
FM Towns added by Terok Nor.
Additional contributors: Infernos.
Game added February 27th, 2004. Last modified March 1st, 2023.