Super Wing Commander
Moby ID: 12303
Description
Super Wing Commander is a remake of the first Wing Commander with new graphics and sound.
As in the original game, the player takes control of a young pilot on the carrier TCS Tiger's Claw to fly missions in the war against the Kilrathi.
The game includes the Vega campaign from the original game and the first Secret Missions add-on campaign. Secret Missions 2 is replaced with a new campaign in which the Tiger's Claw must find and destroy the base where the Sivar dreadnought from Secret Missions 1 was developed.
The look of the original game has been completely redesigned, with ships and people looking completely different from the original. All dialogue is now heard through digitized speech.
Spellings
スーパーウイングコマンダー - Japanese spelling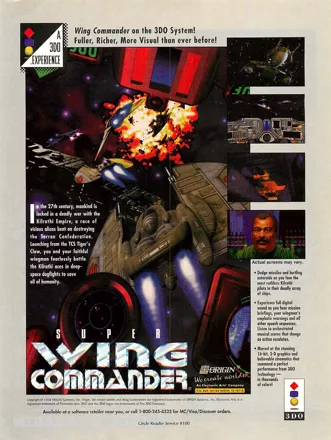 Credits (3DO version)
63 People (62 developers, 1 thanks) · View all
Producer
Assistant Producer
Software Engineers
Additional Programming
Creative Design Associates
Additional Design Assistants
Artists
Music
Sound Designers
Quality Assurance Leader
Quality Assurance
[ full credits ]
Critics
Average score: 76% (based on 17 ratings)
Players
Average score: 3.8 out of 5 (based on 5 ratings with 0 reviews)
Be the first to review this game!
Trivia
Development
The artists were not given any models of the ships from the original Wing Commander, which is why the ships look entirely different. Many models were later re-used as different ships in later Wing Commander titles.
Hidden scenes
Roughly shot FMV test sequences are hidden in the 3DO version. These scenes depict the drive room and a silent clip of an actress (different from the one who actually appears in the game) speaking to the camera.
Information also contributed by Vance
Contribute
Are you familiar with this game? Help document and preserve this entry in video game history!