NHL '94
aka: NHL Hockey '94, NHL Hockey 94 , NHL Pro Hockey 94
Moby ID: 12399
Description
After establishing themselves in the virtual rinks, EA combined both NHL and NHLPA licenses in NHL '94, allowing them to feature all 26 real teams (including both expansion teams) and players of the new NHL season for the first time in the series.
Aside from the licenses, the gameplay for this edition sees for the first time the inclusion of the devastating one-timer shot, but to keep forwards (literally) in check, defenders also feature harder body checks, with new animations. For an additional challenge, players can also choose to control the goalkeeper manually. A popular feature in previous editions, fighting is completely removed from the game. Game modes include exhibition games (or "regular season" in-game), playoffs (best of one or best of seven) and an all new shoot-out mode. The main options remain basically the same couple since the establishment of the series - period length (5, 10 or 20 minutes), line changes (off, manual or the new automatic mode) and penalties (off, on, on but no offsides).
While there are some minor differences between platforms (Genesis features record keeping for users and the MegaCD version has more stat screens, CD quality audio backdrops and the usual highlight clips here and there), only the PC version released at the same time features complete season action.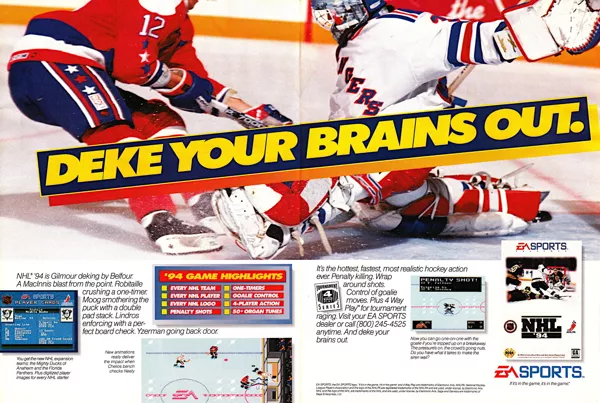 Credits (Genesis version)
29 People (18 developers, 11 thanks) · View all
Design Adapted by
Programmed by
Graphics by
Based on NHLPA '93 by
Music & Sound by
Organ Music by
Executive Producer
Produced by
Assistant Producer
Technical Directors
Testing by
Player Ratings by
Player Card Photos by
Special Thanks to
[ full credits ]
Critics
Average score: 89% (based on 25 ratings)
Players
Average score: 3.5 out of 5 (based on 31 ratings with 1 reviews)
The Good
Great multiplayer action, especially with penalties turned off. There is a method and skill to scoring, rather than the goalies being impossibly hard or easy.

The Bad
None really. I wish you could get more players than the 5-person limit but that was a limitation of the SNES hardware. Their multi-tap only supported 5 controllers.

The Bottom Line
The best game ever made. You should play it with 5 people with the penalties turned off and it turns into a combination of football and hockey. You block for each other, try to knock the goalie out of position right before your teammate takes a shot and generally do all the things you can't do in real life.
SNES · by sprewell (1) · 2007
Trivia
Compilation
NHL '94 is included in the PS2 version of NHL 06.
Awards
Electronic Gaming Monthly

November 1997 (Issue 100) - ranked #61 (Best 100 Games of All Time) (Genesis version)

GamePro

February 1994 (Vol. 6, Issue 2) - Sports Game of the Year (1993 Editors' Choice Awards)
Information also contributed by Big John WV
Related Sites +
"John Madden Hockey" (Read-Only Memory, 2015)
Detailed article about the influences of the John Madden football games on the creation of NHL '94. Article written by Blake J. Harris with illustrations by Eleanor Crow.
NHL94.com
A comprehensive fansite entirely dedicated to NHL94
Contribute
Are you familiar with this game? Help document and preserve this entry in video game history!