Alternate Reality: The City
aka: Alternate Reality: Part One - The City
In Alternate Reality: The City, you are one of many people who have been abducted from earth by aliens and transported to an alternate dimension where you are dumped in a strange, yet familiar city. Your quest is to explore the city, and find the clues that will lead you to your captors and help you get back home.
In addition to standard first-person RPG features of that era, like skills, stats, experience points and a repertoire of shops and places to visit, the game offers moral evaluation of your character, and depending on your actions you become good or evil, and that affects how the environment reacts to you. Encounters are not necessarily just resolved with the turn-based combat system, but you can also try to trick, charm or bribe opponents. The storyline is non-linear, for example allowing you to take a job in order to enhance a particular skill or just to pass away time.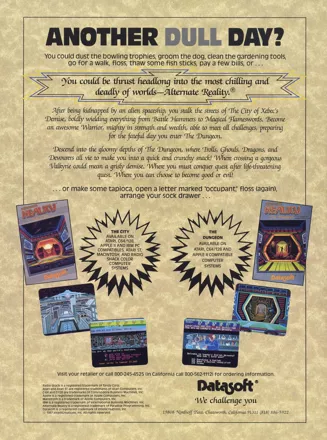 Credits (Atari 8-bit version)
9 People (3 developers, 6 thanks)
Designed by
Programmed by
Music composed by
AMP was designed and programmed by
My thanks to

Gary
Craig
all who buy this game
God my father
Jesus Christ my savior
the Holy Spirit my comforter

Quality Assurance (In House)
Critics
Average score: 72% (based on 11 ratings)
Players
Average score: 3.7 out of 5 (based on 26 ratings with 1 reviews)
The dawn of realistic computer role playing.

The Good
This game had much going for it. First the scenario while a bit cliched(being abducted by aliens and transported to a fantasy world) in our time, works well here making you more sympathetic with the character you play. It was like you yourself was sucked into another world. This made the game both interesting and hard. You are a stranger in a strange land and must find your way through. There are no guides, friends to help you as you start.
 The realism in the game was astounding. Not only do you get hungry, thirsty and tired, but if you do not eat enough good, and expensive, food, or get enough sleep, your effectiveness suffered. If you drank too much beer or wine, you staggered around the screen blinking, simulating a drunk trying to walk home. Realism was also present in the people you met, who may or may not be hostile. You could also try out for jobs and position, such as the wizard's guild and may or may not be taken in.

 Other bits made this a gem of a game. In the taverns you could hear songs (or rather the words were displayed while from your speaker came a simple tune, that gave clues to your predicament. You could tell if you were getting close to the smithy by the loudness of his hammer banging, and of course the bank kept strict hours. You only saw people if you met them; otherwise the streets seemed deserted with a low sun in the sky and howling wind. This is effective in conveying the mood of the game.

  There is a lack of overt action and most conflict is resolved quickly. You can attack, hopefully with a weapon (they can be expensive), trick, or charm an opponent. You can even attack those who are not hostile, but this is noted by the game. There is a moral element here not unlike the Ultima series and the world does react differently whether you are being naughty or nice.


 <br><br>**The Bad**<br>     This game is hard. Money runs short; you run out of food. Its hard to keep from preying on the innocent in the interests of self-preservation. Even worse is running into an enraged noble you attacks you with his magic sword, while all you have is a stilleto (which cost me nearly 200 gold pieces). Surprisingly I won the fight, but the sword I got was cursed. This is not an easy world.

 Also I could never understand why rain storms brought out the muggers and cutthroats. If you had rain, better stay indoors. <br><br>**The Bottom Line**<br>     This is a compelling and frustrating computer RPG. Despite the seeming primitiveness of the graphics and sound, I would say that it as challenging, fun, and demanding as any other computer RPG out there. If you want the experience of being thrust into a new world with little support and with limitless possibilities before you. This is the game to play.

DOS · by Apparatchik (16) · 2004
Trivia
Development
Philip Price, the designer originally planned to release 4 interwoven games that could only be solved if the player owned at least two of them. They were given the working titles The City, The Wilderness, Revelation and Destiny. However, while The City was being developed for the Atari, publishers Datasoft got cold feet about being able to convert the game for other platforms in time for the Christmas sales, and asked to have The City split up in two games, where the first part would then be converted and released in time for Christmas, and the second part The Dungeon would be converted later. So it came to be that Alternate Reality ended up as a quartet in five parts where only one part was ever released.
Macintosh version
This game was released on many platforms, including the then-very-new Macintosh. The Mac version was notable because it did not use the Mac GUI toolbox or in any way conform to the Mac UI. In the early days, even Apple didn't realize that such a product could not sell - some of the pain in programming the Mac in those days came from having to initialize all the GUI managers yourself because they didn't assume all programs would be GUI programs.
This is the only commercial program of any kind that I know of, which actually took that route. It's unclear if it would have succeeded if their choice of actual interface had been better, but combined with a generally hard-to-use unique interface and very slow speed, the game was just too hard to play.
Atari 8-bit version
The game was originally developed for Atari 8-bit computer family and it had some unique features that didn't make it to the more advanced computers. First of all, Alternate Reality featured a raycasting engine with texture mapped walls, the same technology that would be used later in early 3D shooter games. The game would change rendering depending on time of the day or apply weather effects. Most of Atari games would display up to 16 colors or less, some managed to show slightly more using hacks or TV-artefacting, however, Alternate Reality could display up to 64 colors on the same screen - a stunning feat. Another feature was an advanced four-channel music system developed by the same guy that could play cue music or effects based on location in the game world and it even would show lyrics to the songs played.
Information also contributed by weregamer
Contribute
Know about this game? Add your expertise to help preserve this entry in video game history!