Mars Saga
aka: Mines of Titan, The Mars Saga
Moby ID: 1242
You're a stranded space jockey in a rugged frontier settlement on Saturn's moon, Titan. Your one chance to get off this ice cube is to assemble a team and find... a lost city!
This early Westwood title is a turn-based RPG set on the surface of Mars. Your characters have attributes and 21 skills that can be raised during the course of the game. You gather your party throughout the game. Much of the game is viewed from a first-person perspective with a small top down map and status line, but combat is all top-down. Combat can be handled directly by the player or left to the AI.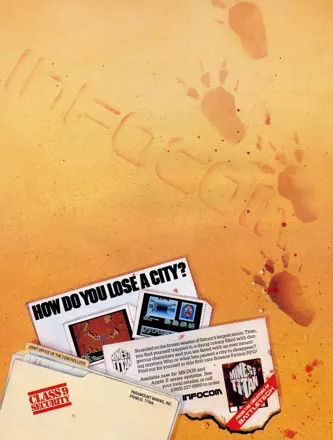 Credits (Commodore 64 version)
5 People
| | |
| --- | --- |
| Commodore 64 Programming | |
| Associate Producer | |
| Package Design | |
| Package Art | |
| Screen Photography | |
Critics
Average score: 79% (based on 9 ratings)
Players
Average score: 4.0 out of 5 (based on 24 ratings with 4 reviews)
Great gameplay, but over time, monotony ensues

The Good
This was my introduction to a party-based computer RPG. I saw it in the store, noticed the "Infocom" logo, and figured I would be in for a treat.
I wasn't disappointed - I played this game for quite a long while. I was impressed with the party system, and the need to have different characters with specialized skills (for example, carting around a skilled Computer Programmer in your party allows you a very high level of access to the cities' public computer networks - just be sure to keep him off the front line in combat).
The game world seemed enormous, and there was more than enough to do if you simply wanted to ignore the plot and play.

The Bad
Unfortunatly, when I did attempt to follow the plot, and actually complete the game, I noticed that the interval between random combat encounters was becoming smaller.. and smaller.. until it disappeared entirely, and I was being attacked by mobs of enemies every turn. Some of them didn't even "fit", such as, getting attacked by surface aliens while inside a city.
Sadly, this caused me to stop playing entirely - getting from one end of a city to the other took close to forever.

The Bottom Line
If you've got an old enough system to run this game, it can be an entertaining distraction for a while, until you progress to the point where you're constantly hassled by enemies, and can no longer progress at a resonable rate.
DOS · by Dave Schenet (134) · 2001
In 1990 this was top of the line for graphic adventures.

The Good
All the cool stuff infocom included in the games. The interface was easy to learn. The battle flow went smooth. The little animated graphics were great for those of us that were used to zork like text adventures. And the little casino games are still cool to play.

The Bad
It's all good

The Bottom Line
Take a classic Infocom text adventure and add graphics and color and a sci-fi plot. This is a great old EGA graphic game.
DOS · by gametrader (208) · 2000
The Good
This was the original GTA-style game. Go around cities with your crew on a distant planet sparkin the .... out of anyone you want to with a huge range of weapons. You can even train yourself up and learn new skills to do well. Even go and play in the casinos when youre bored! When I was little this was my favourite game for about 3 years and I never got bored of it once. I even remember playing it for 6 solid hours one night and I had to sneak back downstairs to play it when my mum had sent me to bed. The game really develops over time as well. Assuming you arent one of these people who can beat any game in a day, this will take you a long while to complete but wont get boring once.

The Bad
The only thing I dont like is that most people nowadays probably havent heard of this game. And if they played it now they probably wouldnt really get the appeal cos the graphics are obviously not up to the modern-day games. Aside from wanting to point that out to anybody who doesnt realise what old games looked like, the game doesnt have a single problem.

The Bottom Line
If you can play old games and not feel like you're being cheated on graphics or whatever, then you should check this out. The only thing more fun in life is going out on the streets and battling real-life thugs and cops!! hehe
DOS · by dave c (1) · 2003
Contribute
Are you familiar with this game? Help document and preserve this entry in video game history!