Blazing Chrome
aka: Blazing Chrome AC
Official Description

In Blazing Chrome, machines rule the world and the few humans left are on the edge of total extermination, lacking power, prestige or status among their metal and circuits overlords. Bring your best pal and kick some metal butts to free the humankind while enjoying a classic run'n'gun, fully loaded with action and exciting fights!


Humans are expendable after an AI controlled robot army take over the world. They survive in hiding while their hunters rule the surface. When a small rebel group gets an intel about a big AI's power plant, the machines strike their camp before they can organize an attack. A small group of rebels escape and go in a suicide mission to destroy this power plant. Choose to play as Mavra, a super badass human resistance soldier, or Doyle, the equally groovy and deadly insurgent robot. This suicide mission will result in heavy casualties and a ton of lock-and-load fast-paced action where scraping robots and blazing chrome with your powerful weapons is the only thing standing between you and your freedom.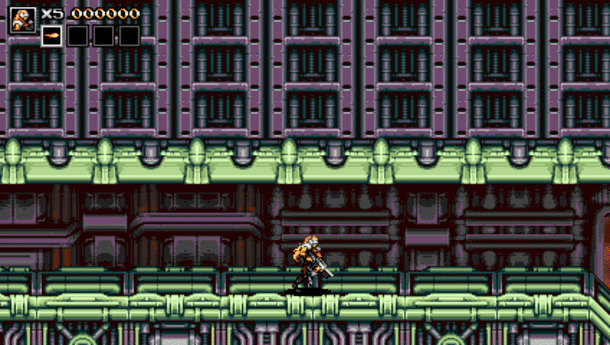 Dash through 5 apocalyptic environments with hundred of robots-enemies to blow to pieces. Blast your way through the enemy lines and and try to defeat a bunch of mechanical bosses with using hoverbikes, huge armors and a whole arsenal of kick-ass weapons.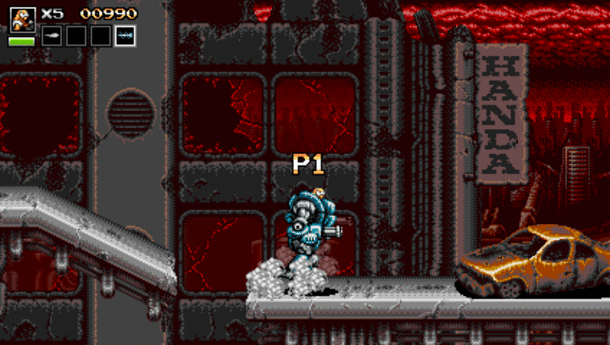 Blazing Chrome offers a lot of features in the legacy of classic run'n'gun games:
● Local Co-op Gameplay
● 16-bits post-apocalyptic environments
● Classic fast-paced run-and-gun experience
● Epic boss battles and crazy lot minibosses fights
● Genuine arcade feel
● Motorcycle and jetpack action
● Rad pixel art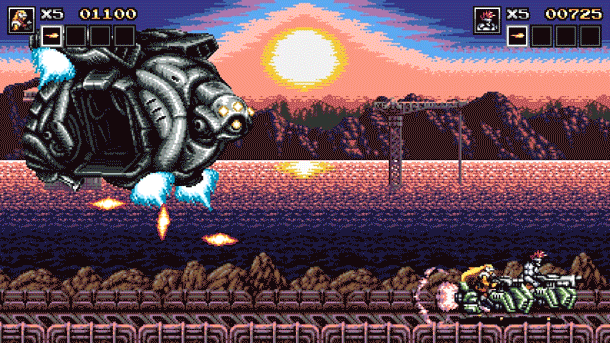 Source: Steam Store Description
Spellings
ブライジングクロム - Japanese spelling
炽热合金 - Simplified Chinese spelling
熾熱合金 - Traditional Chinese spelling
블레이징 크롬 - Korean spelling (Hangul)
Credits (Windows version)
72 People (51 developers, 21 thanks) · View all
JoyMasher CEO
Game Concept
Programming
Producing
Pixel Art
Concept Art
Music
SFX
Voice Work
CEO
Office Manager
Head of Marketing
Communication Manager
Product Manager
Community Management
Business Developer
Creative Director
Head of QA
QA Tester
[ full credits ]
Critics
Average score: 83% (based on 23 ratings)
Players
Average score: 3.7 out of 5 (based on 9 ratings with 0 reviews)
Be the first to review this game!
Trivia
Version differences
This expanded arcade release of Blazing Chrome adds a new playable character, Zaku from Oniken, and a new soundtrack by Motoaki Furukawa.
Contribute
Are you familiar with this game? Help document and preserve this entry in video game history!
Contributors to this Entry
Game added by Cantillon.
Xbox One, Windows Apps added by Rik Hideto. PlayStation 4, Nintendo Switch added by Kam1Kaz3NL77. Luna, Browser added by Sciere. Arcade added by Ms. Tea.
Additional contributors: Alaka, Rik Hideto.
Game added July 11th, 2019. Last modified September 19th, 2023.