Viaje al centro de la napia
Moby ID: 132166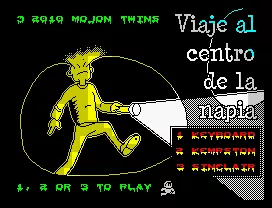 Released

Credits

Publishers

Developers
Genre

Perspective

Visual

Gameplay

Interface

Setting
Business Model

Media Type

Number of Players Supported

[ view all 4 specs ]
Official Site
Description
Viaje al centro de la napia, a play on words on Journey to the Centre of the Earth, is a game that takes place inside the skull of the boy Miguelito. He is not very smart so his mother takes him to a special class for adolescents still in 2nd grade at the primary school. He feels lost between so many books and geniuses, so he gets bored, drifts off and gets a severe headache. Fortunately he has a brand new box of pencils, so to pass the time he starts to bury them inside his nose. He already held several records for this activity in kindergarten, so now he wants to attempt to get the whole box of twelve pencils inside. With one pencil left, his visions starts to blue and he falls down his desk into a coma. When he wakes up he is inside his own, huge nasal orifice and the goal is clear: remove all the pencils and escape the nightmare.
This 2D platform game contains a single level composed of several single-screen rooms connected both horizontally and vertically using the flip-screen mechanic offering an amount of freedom to explore. Miguelito has no means to attack and has to complete platforming sections while avoiding enemies. He starts with 99 health and the meter is drained as long as he stays in contact with something dangerous. Every now and then chorizo sandwiches can be picked up to restore some health. When the twelve pencils, scattered around the levels, have been collected, the game is won. Sometimes he first needs to find a scalpel to cut through specific walls in order to progress.
Credits (ZX Spectrum version)
6 People
Game

The Mojon Twins
Pretujao 2010 - vol #3

Powered by La Churrera by
Powered by splib2 by
Uses aPPack decompressor by
Uses aPPack decompressor adapted by
Uses aPPack decompressor optimized by
Contribute
Are you familiar with this game? Help document and preserve this entry in video game history!
Contributors to this Entry
Game added by Sciere.
Game added August 13th, 2019. Last modified February 13th, 2023.