Greendog: The Beached Surfer Dude!
aka: Greendog
Moby ID: 13346
In this game you play the role of a surfer called Greendog who discovers a gold pendant while out surfing. Unwittingly he puts the pendant on and discovers it won't come off. A bikini clad girl tells him that the pendant was made by the Aztecs long ago, and that they cursed it so that whoever wears it will be attacked by any animal that comes near them. Worst of all the person wearing it is unable to surf. The only way Greendog can lift the curse and remove the pendant is to find the six pieces of Aztec treasure and put them all together and the only knowledge of the whereabouts of the treasure is stamped on the back of the pendant.
The gameplay involves you getting from the left end of the level to the right while fighting off wild animals with your trusty Frisbee and using your athletic skills to jump over platforms.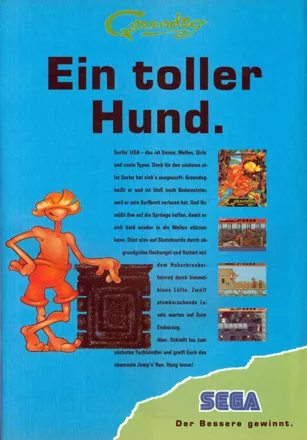 Credits (Genesis version)
28 People · View all
Creator
Developer
Artists
Programmers
Music
Game Design
Marketing Support
Manual
Test Manager
Lead Tester
Testers
[ full credits ]
Critics
Average score: 68% (based on 17 ratings)
Players
Average score: 3.1 out of 5 (based on 17 ratings with 2 reviews)
Like, Totally Rad To The Exteme, Man!

The Good
Greendog is a fun, single player action, platforming game that sort of fell by the commercial wayside, never getting the respect it deserved.
The game's early 1990s, 16-bit graphics, animation, music and sound effects are all cool and the game adds in some little nice touches to the standard side-scrolling, action platforming based genre.
Our young, hip, surfer hero is armed with an ancient flying disk that he can throw at enemies, bosses or us it unlock various hidden objects, contained in totem polls.
He also breaks up his standard side-scrolling action by riding a gyrocopter, skateboard or inline skates.
His international adventure to free himself from an curse, takes him to many tropical, rainforest locations, with some homages to Pitfall.
Along with the nice looking scenery, the game also features some nice calypso music.

The Bad
Greendog is easy to control and the level of difficulty never gets to be too unreasonable, but it does feel a tad bit too short. I would have liked to see more levels, with some secret rooms and items to possibly uncover.
The bosses in the game are a bit of a let down. They amount to a series of random tiki-like boss, with no central villain or even final boss at the end of the game.
Sega was clearly trying to develop Greendog into a possible mascot character, so why not actually get a bit more creative with the end of level bosses?
The initial story itself is not too bad, and the ending leaves things up for a sequel, but the game never develops any main enemy or villain in the game and could have done a few more things to develop the hero.

The Bottom Line
Greendog is a fun, platforming adventure with calypso-themed music and lush tropical jungle levels. Everything about the game reflects the creativity that Sega had in the early 1990s while it was creating its own armada of mascots to compete with Nintendo.
It is a shame that the game never got a sequel, because players will beat Greendog and find themselves wanting more.
Genesis · by ETJB (428) · 2012
The Good
The fun thing about these old games is that they were a lot more abstract than what we have today. The vacuum left by this lack of overall definition of what you're doing and for what purpose - the What the Hell is Going On Syndrome so common of old videogames - meant that there was a lot more room for interpretation in the player's mind (Today's videogames are commendable for being able to replicate's someone's vision better, but in the old times, they'd actually stir up yours in rather wild ways.)
So when an old dinosaur of a game like this one manages to stir up or invoke some mood or impression, you have to give it some credit. The whole game is set in the Caribbeans and Southern America and you get just that feeling from it. You get that warm summer goodtimes feel from it and you love it just for that reason... you get beaches, aztec imagery, jungles and great Calypso music. Whoo-hoo!

The Bad
The fact that the game itself doesn't amount to much. You're some dude with a frisbee who jumps from one platform to another. Wow, man... almost sounds like you're in some platformer game where you're some dude with a frisbee.

The Bottom Line
I bought this game for 20 dollars back then. It was worth every penny.
Genesis · by J. G. (7) · 2005
Contribute
Are you familiar with this game? Help document and preserve this entry in video game history!
Contributors to this Entry
Game added by festershinetop.
Additional contributors: formercontrib.
Game added May 18th, 2004. Last modified August 17th, 2023.