Description
In Knights of the Round, play the role of one of three knights from the Arthurian legends. The three characters are Sir Lancelot, Sir Percival, and of course King Arthur.
The story tells of a man who pulled the mighty sword Excalibur from a rock which no one else could achieve. This feat signified that he should be king of the Britons and lead them to peace. The trouble is there is mass chaos in the land and the only way Arthur can stop it is to find the holy grail which has been hidden for over a thousand years. Aurthur is joined by Percival and Lancelot on his quest to find the grail.
The gameplay involves the player to scroll along the screen fighting of enemies with a sword or axe depending on the character. The player can also block and parry with opponents which is done by a simple button press. There are also character development elements in the game where collecting points by killing enemies and picking up gold increase the character's attack and speed. Character's armour and weapons also change when they gain experience.
Spellings
ナイツ オブ ザ ラウンド - Japanese spelling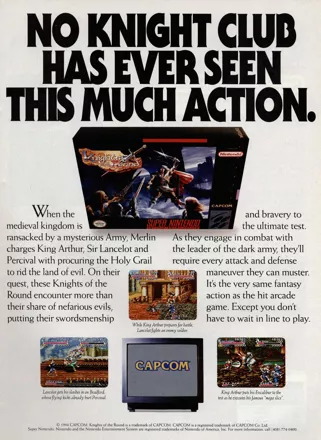 Credits (Arcade version)
18 People
Contribute
Know about this game? Add your expertise to help preserve this entry in video game history!
Contributors to this Entry
Game added by festershinetop.
Arcade added by GTramp.
Additional contributors: Rik Hideto.
Game added May 27th, 2004. Last modified February 22nd, 2023.