Sango Fighter
aka: Fighter in China, Sango Street Fighter, Violent Vengeance, Wu Jiang Zheng Ba: Sanguozhi
Description
Sango Fighter is a versus fighting game set in the Three Kingdoms era in China. The player can choose between five different characters from the time period, and fight other characters in either a one-on-one combat or a story mode.
The story is loosely based on real historical events of the Three Kingdoms era: towards the end of the Han Dynasty, China was controlled by the Emperor Ling, who was in turn controlled by ten of his servants in the royal palace. This created a convenient atmosphere for bandits, and the land was in turmoil. Then the Emperor ordered the ten dukes to take it on themselves to restore peace in the land, but the dukes instead fought amongst themselves. Finally, the duke Cao Cao took the Emperor captive and he now controls the realm. The player, however, must use five fighters to take on Cao Cao's forces and restore equilibrium to the land.
Spellings
三国武将争覇 - Japanese spelling
武将争霸:三国志 - Chinese spelling (simplified)
武將爭霸: 三國志 - Chinese spelling (traditional)
삼국지 무장쟁패 - Korean spelling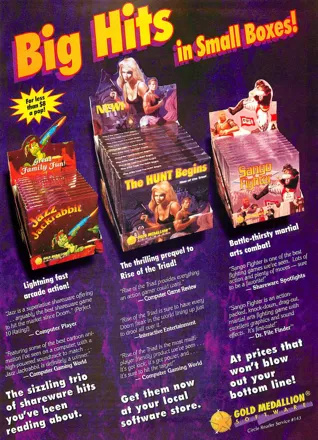 Credits (DOS version)
18 People (12 developers, 6 thanks)
| | |
| --- | --- |
| Producer | |
| Programming | |
| Character Design | |
| Art Design | |
| Music Production | |
| Special Thanks | |
| Project Manager | |
| Programming | |
| Graphics | |
| Translation | |
| Special Thanks | |
Critics
Average score: 92% (based on 2 ratings)
Players
Average score: 3.8 out of 5 (based on 17 ratings with 2 reviews)
The Good
What's to like about Sango Fighter? Hmm. I guess I can give the game some credit for a few very well-drawn graphics, Japanese style.

The Bad
Horrible controls, terrible music (did I say terrible? I meant YUUUUUUUUUUCK) and sound effects, crappy animation and anything BUT fun gameplay.


The Bottom Line
Why the hell would anyone play this on his own free will? Don't ask me. Ask my brother, for only he knows.
DOS · by Tomer Gabel (4539) · 2000
The Good
Almost everything! The wide variety of characters to chose from, the easy, and really logical controlling, the colorful graphics (wich were very good in its time), the cool special moves, and the special stages, where you have to arrow down pigeons...:D

The Bad
No female characters. and technically... it's still just a PC game from '93

The Bottom Line
Okay, PC computers are not the best platform for fighting games. Still its admirable, that some companies tried to make games in this genre originally for PC. Some of the succeeded very well. Like Panda, a small company from Hongkong (as i recall). Sango Figher is one of the best fighting games They've ever made. It takes place in romantic china, and your fighers are all heroes from legends. If you chose story mode you may chose from only five of them (even there's more than twice as much characters in the game), since they're serving some evil dictator, who you gotta capture in the end, after you beat all these guys. Atmospheric, and fun game, but if you've been raised by arcade machines (i know some weird people in this category), you might find it simply bad. Check out the second part too!
DOS · by okos ember (14) · 2006
Trivia
Development history
Originally, Sango Fighter was going to be published in the U.S. by Apogee Software, with help from Panda. During the game's brief stay with Apogee, it was titled Violent Vengance, but before long, Panda decided to publish it on their own in the U.S. The original title was reinstated when it was released in the U.S.
Super Fighter Team version
As of 2014, the game (together with the sequel Sango Fighter 2) is legally owned by Super Fighter Team, who has fully translated it into English and corrected some of its bugs. Both games are freely available at their website.
English language version
The first English language version of the game was released by a Taiwanese company named Accend, without permission from Panda Entertainment.
Inspiration
Sango Fighter is based on a novel called Romance of the Three Kingdoms.
Lawsuit
A lawsuit by C&E Inc. took Sango Fighter off of store shelves.
Title
One presumes that the "Sango" in the game's name refers to a streamlined transliteration of the pinyin Sānguó, literally the "Three Empires" of Cao Wei, Shu Han and Eastern Wu.
Information also contributed by Brandon Cobb, Pseudo_Intellectual, and Satoshi Kunsai
Contribute
Are you familiar with this game? Help document and preserve this entry in video game history!