Shatterhand
aka: Tokkyū Shirei Solbrain
(prices updated 10/2 3:52 PM )
Shatterhand is an action game with eight-direction scrolling. You control Shatterhand in his quest to find and defeat General Grover, leader of the Metal Command. Through the game you'll encounter all kinds of mechanical and biomechanical creatures. Shatterhand's primary weapon is his cybernetic fists and therefore most enemies must be defeated by punching them.
Additional help can be given from any of the eight hovering satellite robots, each of which has it's own weapon that fires automatically when Shatterhand throws a punch. These satellite robots can be obtained by collecting combinations of alpha-beta letters that appear when you punch some of the white boxes that are scattered throughout each stage.
The game has seven stages. The first and the last must be played first and last respectively, but the five middle stages can be played in any order. The path to the final showdown with General Grover leads through a factory, a refinery, an anti-gravity research facility, a submarine, a burning subway, a filtration plant and finally to General Grover's missile launch complex.
Spellings
特救指令ソルブレイン - Japanese spelling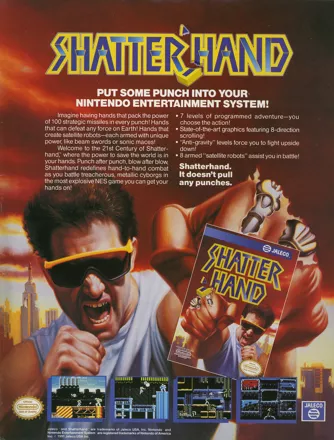 Credits (NES version)
18 People (6 developers, 12 thanks)
| | |
| --- | --- |
| Program | |
| Graphic | |
| Sound Program | |
| Music Composer | |
| Sound Effect | |
| Special Thanks | |
Critics
Average score: 84% (based on 15 ratings)
Players
Average score: 3.9 out of 5 (based on 23 ratings with 1 reviews)
The Good
For some reason, Shatterhand is barely remembered today, which is a pity since it really is an excellent side-scrolling action game.
What I really like about Shatterhand is the certain kind of flow that the game has. There's something about it that drives you forward; it makes you want to progress and beat the crap out of everything that stands in your way. One of the contributing factors is without doubt the music. Seriously one of the best NES soundtracks I have ever heard. The tunes are fast paced, but totally memorable and catchy, and they the game perfectly.
The level design also plays a large role into making Shatterhand such as satisfying game to play. There's always a sense of reward when you get past obstacles and sub-bosses. Also, it never gets stale or predictable. There's plenty of surprises in the game that will keep you focused. While the game is sort of simple it nonetheless has some cool features, such as the satellite droids, which makes it stand a part from other games in the genre.
I also really like the fact that once you complete the first stage you can select which stages you want to play.

The Bad
One the things that bugs me a bit about Shatterhand is the fact that you sometimes can't get a sense of how far into a level you have progressed.
Perhaps it is also a bit short, but the skill level is fairly high, so it's not like you can just waltz through the game.

The Bottom Line
While not groundbreaking or particularly innovating, Shatterhand is a superb, addictive and extremely well made game. Definitely a cult game for those in the know.
NES · by Apogee IV (2279) · 2005
Contribute
Are you familiar with this game? Help document and preserve this entry in video game history!
Contributors to this Entry
Game added by Kabushi.
Arcade added by Foxhack.
Additional contributors: Shoddyan, Игги Друге.
Game added July 16th, 2004. Last modified September 2nd, 2023.