(prices updated 9/29 7:40 PM )
Another arcade classic finds a new form in 3D! And this time it's Lode Runner...
Lode Runner 2 is the sequel to the remake of Doug Smith's timeless classic. The game features 5 unique worlds where in each level you will try to collect all the gold without dying. Run, dig, climb, scale, fall, drob bombs and collect stuff!
Like in Jazz Jackrabbit 2, this sequel has also added a companion (Jane) to its main character (Jake Peril). They are identical in their capabilities --no special moves. Choose one of them and get into Lode Runner's new dimension!
Spellings
淘金者2 - Chinese spelling (simplified)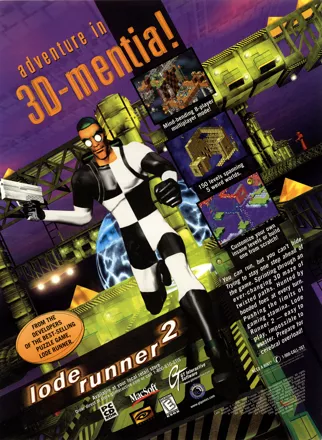 Credits (Windows version)
48 People (41 developers, 7 thanks) · View all
Original Lode Runner Game
Producers
Design
Programming
Lead Artist
Animation
Visual Effects
World Artists
Interface Artist
Art Director
Audio Design and Production
Female Lode Runner Voice
Level Designer
Additional Level Design:
[ full credits ]
Critics
Average score: 65% (based on 19 ratings)
Players
Average score: 3.8 out of 5 (based on 8 ratings with 1 reviews)
The next level of puzzle games

The Good
The game has 75+ levels (not including around 15 beta levels contained on the game disk) the game will continue to challenge you even after you think you've mastered the game. The art direction of the levels varies from nice forest designs to lava lamp like blobs and grinning bricks.
Contains a multi-player mode, with co-op and head to head modes.
The power ups are truly inspired, they range from simple bombs to beach balls that allow you eliminate any enemy in your path.
The psuedo 3D graphics hold up really well.
The level editor included in the game works really well and is so simple you will be created levels as good as or better than the ones in the game.

The Bad
Can get incredibly difficult at times.
Could have had a few more levels to prolong the life of the games, not enough multi-player levels.

The Bottom Line
You play Jake Peril (or Jane, if you choose to play as a female) and your objective is to collect all the gold on the levels without being caught by the monks, you will have to run, dig, blow up and dig some more to escape the monks and get the gold.
Windows · by Dakota Bob (72) · 2007
Trivia
Bonus content
If you ever looked into the CD of Lode Runner 2, you would probably find all the movies of the game in Quicktime format (including the final act and a bonus) and some of the levels from the game to edit with your level editor ("There are a few unsupported levels added to the CD at the last minute. These levels came from the members of the team and the lead QA member").
Contribute
Are you familiar with this game? Help document and preserve this entry in video game history!