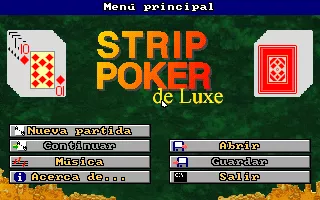 Genre

Pacing

Gameplay

Narrative
Description
Strip Poker de Luxe is a single-player card game in which the player takes on one of three different AI characters. It plays entirely in Spanish.
There are three opponents, Nadia, Paula and Katty. Each of the AI characters has a basic picture which is shown along with a short description of which there are at least three for each character, for example Nadia descriptions translate as** "Nadia is a business student, charismatic, fun and ... very attractive. As a player she is daring and completely unpredictable, .. achieving her purposes systematically and without difficulty."
"Nadia is a sensual young woman, she is always in a good mood and radiates positive energy. His energy waste can exhaust the morale of the most tenacious player."

"Nadia has great ability managing to deceive her opponents whenever she wants. A practically perfect poker player."* The game itself is a basic five card draw poker in which both the player and their opponent start out with the same amount of cash. After each hand there is a comment from the lady which is shown over the current picture. Should one of the ladies run out of cash they get some more and the player is rewarded with a new photograph eventually, if they are extremely lucky or skilled, ending up with a nude picture and a congratulatory message. Once a picture is revealed it remains the current picture until the game is over, should the lady win back most of her losses it does not revert to the earlier image.
The game is played entirely with the mouse, it has a save/load function and optional music but no voice or sound effects.
Contribute
Know about this game? Add your expertise to help preserve this entry in video game history!
Contributors to this Entry
Game added by piltdown_man.
Last modified March 9th, 2023.