Butt-Ugly Martians: B.K.M. Battles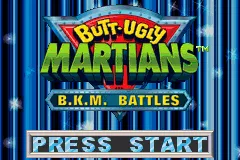 Released

Credits

Publishers

Developers
Moby Score

n/a

Collected By

1 players
Genre

Perspective

Visual

Gameplay

Interface

Setting

Misc
Description
Butt-Ugly Martians: B.K.M. Battles is a side-scrolling shoot'em up game based on the cartoon of the same name. The Martian Emperor Bog has grown tired of his inefficient Earth-invaders-turned-Earth-protectors envoys and had dispatched an army of evil aliens to finally take over the Earth. The three Butt-Ugly Martians must stop him.
The player can pick their favorite Martian out of B-Bop A-Luna, 2T Fru-T, or Do-Wah Diddy, each with a different mix of attack, defense, and speed abilities. All of them are in "butt-kicking mode" (B.K.M.), meaning they don their powerful assault suit.
On each level, the player is tasked with destroying aliens and unlocking doors by finding the correct keys to reach the end of the space cavern where a boss enemy will be waiting for them. Various power-ups can be picked up to increase the abilities of the playable characters: extra fire power, extra armor, temporary invincibility, turbo, etc.
Occasionally, the player will be confronted by Stoat Muldoon, an alien hunter and long-time antagonist of the Butt-Ugly Martians, who can be defeated by simply collecting a memory erasing crystal and using it against him. The game contains a total of 28 levels spread over 7 worlds. There are three difficulty levels and progress is saved using a password system.
Butt-Ugly Martians: B.K.M. Battles also features Gamecube connectivity with the game Butt Ugly Martians: Zoom or Doom in which special content can be unlocked by collecting five colored gems in the Game Boy Advance game.
Credits (Game Boy Advance version)
80 People (79 developers, 1 thanks) · View all
Programming
Lead Artist
Artists
Frontend Artist
Produced by
Designed by
Level Design & Balancing
Lead Tester
Testers
[ full credits ]
Contribute
Are you familiar with this game? Help document and preserve this entry in video game history!
Contributors to this Entry
Game added by Hervé Piton.
Game added May 11th, 2020. Last modified February 22nd, 2023.