Mr. Nutz: Hoppin' Mad
aka: Timet: the Flying Squirrel
Moby ID: 14997
Similarities with the other Mr. Nutz game only go as far as the title and main character, although both are side-scrolling platform games. Mr. Nutz the squirrel is holidaying on Peanut Planet when he's called into action to save the local people from a race of chickens. Nutz can fly, swim and dive through the planet on his quest. The level layouts include tunnels and warp zones. Bonus items and additional weapons including bombs are available along the way.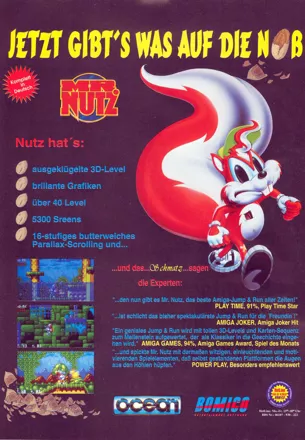 Credits (Amiga version)
15 People · View all
Producers
Programming
Scaling and Tunnel
Artwork
Outro-planet
Music
Fx
Level Design
UK Version
Game Testing
Manual
[ full credits ]
Critics
Average score: 82% (based on 11 ratings)
Players
Average score: 4.3 out of 5 (based on 4 ratings with 1 reviews)
Not as good as the Sega Genesis version

The Good
The introduction to this game looks great, and the in-game graphics are beautiful. The music is first-rate, and there is a gorgeous-looking bonus sequence. The game is quite addictive for a while, and Mr. Nutz himself looks suitably humorous.

The Bad
Where the game falls down is in its gameplay. For a start, you spend far too much time moving a tiny squirrel around a maze looking for the entrances to the varied parts of each level. When you start playing the levels, it isn't long before they become tedious and repetitive. The chickens are just irritating, and the later bosses are frustrating and uninteresting.

The Bottom Line
A platform game in which you must guide Mr. Nutz, a squirrel, through the levels in order to rid the land of killer chickens (!) If you are hit by a baddie, you can replenish your lost energy by catching the little jumping rectangle which flies out of your health meter, and there are also shields dotted about the levels.
Amiga · by Gary Smith (57) · 2004
Trivia
Cancelled Genesis version
A port of Mr. Nutz: Hoppin' Mad was being developed for Genesis (under the name Mr. Nutz 2). Several European magazines even reviewed the game, but it was never released.
Development
This game started as Timet: The Flying Squirrel and featured a different character (Timet). However the game's publisher Ocean didn't want to have two different squirrel characters in its game catalogue and decided to replace Timet with Mr. Nutz, despite the game featuring a different universe and objections from the creators of Mr. Nutz.
Awards
Amiga Joker

Issue 02/1995 – Best Dexterity Game in 1994 (Readers' Vote)
Contribute
Are you familiar with this game? Help document and preserve this entry in video game history!