Dragon Slayer: The Legend of Heroes II
aka: Dragon Slayer: Eiyū Densetsu II
(prices updated 9/23 11:02 PM )
Years have passed since prince Selios, the hero of the first game, defeated the demon god Agunija in the ultimate battle. Peace returned to the land of Iseruhasa. Selios married his sweetheart Dina, and they had a child, whom they gave the name Atlas. At the age of fifteen, Atlas was already a strong warrior, thanks to the lessons of his teacher Lowel. Everything seemed peaceful in the country, until two warriors spotted strange creatures near the capital city. Those were... men in space suits! Of course, the warriors could not have known this and believed them to be monsters. Do the mysterious strangers have peaceful intentions, or are they a new threat to the kingdom?
The second Dragon Slayer is very similar to the first game, graphically and gameplay-wise. The only major difference is the fact that the enemies are now completely visible on screen before battles, so that the player can avoid fighting them if he wants to. Otherwise, it is a traditional Japanese RPG with turn-based combat viewed from first-person perspective. The Genesis version has once again updated graphics.
Spellings
ドラゴンスレイヤー英雄伝説II - Japanese spelling
英雄传说II - Chinese spelling (simplified)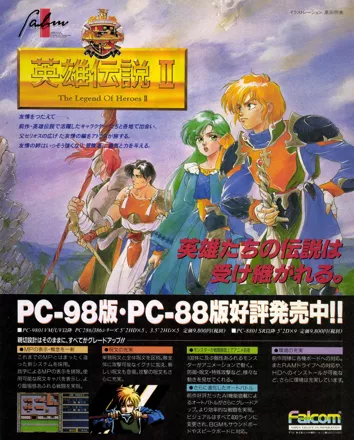 Credits (PC-98 version)
28 People (19 developers, 9 thanks) · View all
Players
Average score: 4.0 out of 5 (based on 12 ratings with 0 reviews)
Be the first to review this game!
Contribute
Are you familiar with this game? Help document and preserve this entry in video game history!