2econds to Stδrlivht: Forever My Diamond
Moby ID: 150982
Official Description
As graduation looms, true feelings begin to surface. Will Grace find the courage to overcome her shyness and bare her heart to Sera, or will her handsome rival Akira get to her first?
A free VN about being really gay for your best friend. A standalone entry in the NOISZ series, and prequel to NOISZ STΔRLIVHT.## CHARACTERS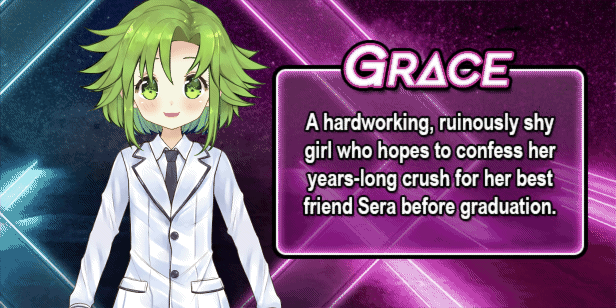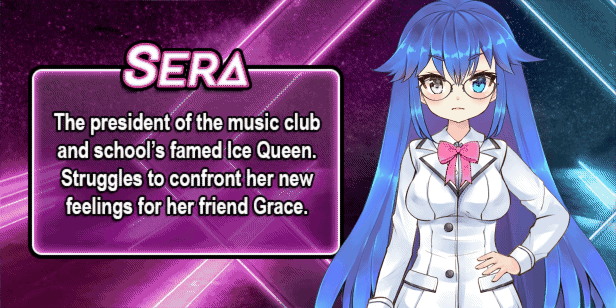 Source: Steam Store Description
Credits (Windows version)
15 People (8 developers, 7 thanks)
Producer
Story
Program
Graphics
Artwork
BGM
Chara Voice
End Theme: Done In Love
Thanks

king mickey
moxie
cosmo-aura
hairytables
hamu
malcolm
and you
Players
Average score: 3.8 out of 5 (based on 1 ratings)
The Good
This will be a short review because this is a short visual novel, maybe thirty minutes long, so saying too much about the game will give away the story. Within the game there are points where the player chooses dialogue and actions for the current character
The artwork is a combination of anime for the main characters with modified photos for the background and this works well. It makes the characters stand out really well.
There is in-game music which is OK but not without its problems, see below.
The game also has save/load and quick save features though in something this short they are not really needed and I did not try them.


The Bad
Nothing bad to say really but, and this is really picky, I'm not a fan of the small screen size. It's as though the game was designed for a phone, which it probably was, and though I liked this prologue I would not buy the full game if it is in the same format.
Finally, the music is OK, however it started out really loud and, because it some scenes are associated with different tracks and some scenes are very short it does change abruptly in some places.


The Bottom Line
This is a free short novel with, allegedly, two endings though I could only find one.
There's nothing groundbreaking here but the writing and artwork are good, the music is OK, the mechanics of the game worked flawlessly for me and I enjoyed it
Windows · by piltdown_man (227548) · 2020
Contribute
Are you familiar with this game? Help document and preserve this entry in video game history!
Contributors to this Entry
Game added by piltdown_man.
Game added October 20th, 2020. Last modified February 13th, 2023.