Vice: Project Doom
aka: Gun-Dec
Moby ID: 15106
Description
Quinn Hart and his partner, Detective Reese of the VICE squad both work to stop the trafficking of illegal substances. But something new has appeared on the scene, a neon gel with great addictive properties. During investigations as to the origin of the gel, Reese mysteriously disappears and leaves Hart without a lead. Time passes and Hart becomes romantically involved with his new partner, Christy, as he continues trying to track down the gel. But Hart is about to get a brand new lead...
Vice: Project Doom is a game that features side-scrolling platform sequences, overhead driving modes and rail-shooter stages. In driving stages Hart's vehicle can accelerate or slow down and fire his weapon straight ahead. During side-scrolling sequences, Hart can jump, duck, climb or use his selected weapon. Weapons that can be selected include a Katana sword, a pistol and a grenade-type weapon. These weapons feature limited ammunition with the exception of the katana. Power-ups include ammunition, coins, and health. In rail-shooting stages, similar to Operation Wolf, Hart can shoot enemies with his gun or throw grenades and pick up items by shooting at them.
During these sequences, Hart must fight and maneuver his way past enemy foes to confront a boss. By destroying the boss and completing the level, Hart progresses and learns a bit more about the origins of the neon gel and what Project Doom is all about. Cinematics dialog between the levels tell the tale in a style similar to that of Ninja Gaiden.
Spellings
ガン デック - Japanese spelling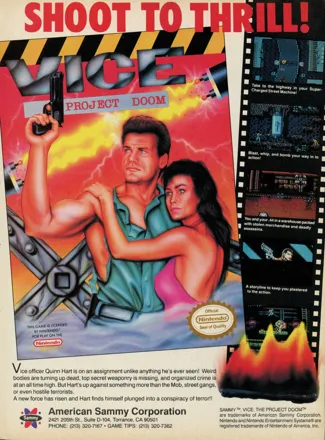 Credits (NES version)
9 People
| | |
| --- | --- |
| Staff | |
| US Producer (uncredited) | |
| Cover Illustration by | |
Critics
Average score: 83% (based on 13 ratings)
Players
Average score: 4.0 out of 5 (based on 20 ratings with 1 reviews)
All of it has been done before... but not at the same time!

The Good

Variety
Flawless gameplay
Cinematic cutscenes
Great graphics
Good stages
Good music


The Bad

Doesn't do anything new


The Bottom Line
In VICE: Project Doom, known as GUN-DEC in Japan, you take the role of secret agent Quinn Hart, a member of the VICE unit who is assigned to investigate B.E.D.A. Corporation, following the disappearance of his partner Reese during a previous case. B.E.D.A. Corporation is a electronic equipment and military weapon manufacturer, and, well, something about this is fishy. Alongside Quinn Hart is his lover and fellow agent Christy, and Sophia, a friend of the two. This mission requires a team.
The game combines the driving stages of games like Spy Hunter, the sidescrolling action of Ninja Gaiden, and the first-person, on-rail shooting the likes of Freedom Force (the NES one, naturally) and Gotcha. And it does it really well. Neither of the game "types" feel cheap, and they're bonded together with great cinematic cutscenes. I would highly recommend this to any NES fan. It's a superb game that is unfortunately little unknown, as it is with many games from this era. If not for the awesome gameplay, check it out just for the story and the cinematic cutscenes. This is high quality stuff. I think this and the Ninja Gaiden trilogy are the only NES games trying to convey a cinematic feeling, and more importantly, look. Or they were just the only games that succeeded.
Check it out.
NES · by Simoneer (29) · 2010
Contribute
Are you familiar with this game? Help document and preserve this entry in video game history!
Contributors to this Entry
Game added by Shoddyan.
Nintendo Switch added by Rik Hideto.
Additional contributors: chirinea, Rik Hideto.
Game added October 8th, 2004. Last modified September 10th, 2023.