10th Frame
aka: 10th Frame: Pro Bowling Simulator
Leader Board authors Bruce and Roger Carver tried their hand at tenpin bowling, in one of the game's earliest recreations. The process of bowling the ball involves timing a succession of clicks to set the right angle, speed and curve, similarly to Leaderboard's system. Three skill levels are provided - Kids level sets the speed and hook automatically, while Amateur has more margin for error with hook/slice than professional. The game is played from a plan view, with four other (empty) lanes visible. Single matches or a league structure can be played.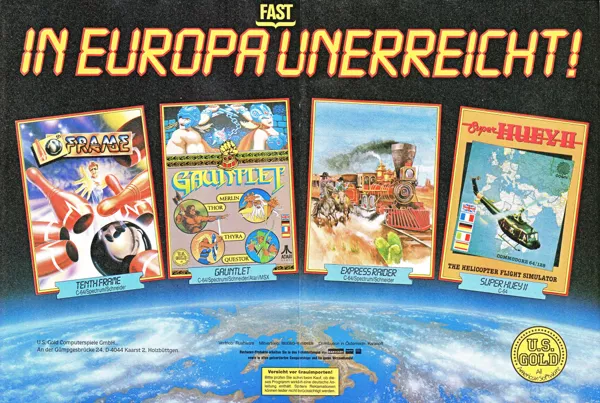 Credits (Commodore 64 version)
Trivia
Boss key
In the DOS version, the boss key is 'F1' and will show a made-up static spreadsheet using ASCII characters only. Pressing 'F1' again will exit this screen and put you back into the game.
Printing Scores
The Atari ST version allows you to print out your scores (hardcopy).
Contribute
Know about this game? Add your expertise to help preserve this entry in video game history!