SideWinder
Moby ID: 15406
Description
This vertically scrolling shoot 'em up varies from the standard for this style of game, as it also features a degree of horizontal scrolling. The screen area moves across as you reach the edge of the screen and reveals a whole new range of enemies. These include lots of static turrets as well as cannon-fodder waves of enemies.
There are 6 levels and each level starts and ends with you travelling through a tunnel, and emerging on the other side faced with a new graphical setting, be it industrial, space or woodland. After clearing the last level the tunnel leads back to the first level, so there is no real ending to the game. There are no end bosses, instead each level ends with a more difficult part with a large ground structure and increased enemies and turrets. There are 3 difficulty levels to choose from, and a 2 player mode.
Interestingly, the game was not only released for Amiga and PC, but also as a coin-op machine for arcades. The arcade version is identical to the Amiga version, the arcade PCB even contains parts of the Amiga operating system.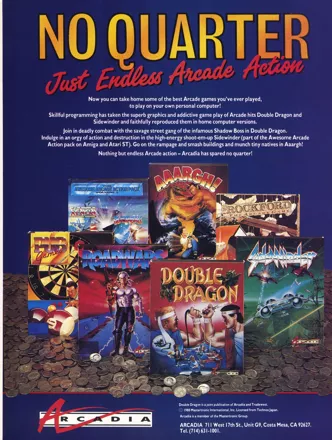 Credits (Atari ST version)
| | |
| --- | --- |
| Written by | |
| ST Graphics by | |
Critics
Average score: 78% (based on 8 ratings)
Players
Average score: 3.4 out of 5 (based on 8 ratings with 1 reviews)
Five levels of wanton destruction

The Good
* An actual story
Unlike other shooters that I have played in the past, SideWinder has an actual story behind it. A galactic war has reached a stalemate, with giant spacecraft facing one another across the cosmos, when a spaceship the size of an entire planet appears. It is called the Star Killer and it is about to set course for Earth. The player must make their way through five levels and destroy this spaceship before it wipes out Earth.

* Excellent sound and graphics
Upon starting the game, there is a digitized picture of three spaceships in battle, accompanied by a pounding soundtrack. When the Amiga's disk drive stops accessing, nothing happens until you press a key, meaning that you can keep listening to the soundtrack in its entirety.
Each of the game's five levels has its own environment. Of these environments, I like cruising through the first two environments, the water distribution level and the hydraulics level, respectively. Each level has excellent graphics and smooth scrolling.
It's really nice to watch every explosion, even if they occur almost every second. The accompanying sound effects are also excellent.

* Skill levels
There is a feature that is not commonly found in Xenon or any other shoot-'em'up at the time, and that is the five skill levels, and how many enemies you face at any one time depends on that difficulty level. If you select a particular skill level and find that too easy, you can try the next one up.

* Auto-fire = wanton destruction
Your spaceship has limited firepower, but a variety of power-ups float down the screen toward it, and your firepower is upgraded. But what's worth mentioning is that you can enable the auto-fire on the joystick to let out a burst of shots rather than just two at a time, meaning that you can just move the joystick left or right and keep holding down the fire button to cause a great deal of destruction.

The Bad
Airborne Defenders

There are a variety of enemies in the game, including ground turrets, robots, and snipers. The least inspiring of these are the airborne defenders, and while they do swirl around in pretty patterns, the ships are fairly dull. Not that you got enough time to watch them.

No weapon upgrades
There are no power-ups that offer weapon upgrades, so you are restricted to the two-shot.

The Bottom Line
Anyone who has found Xenon too hard will be pleased to know that there are five skill levels in the game. If you select a particular skill level and find that too easy, you can try the next one up. The environments are amazing, and both the graphics and sound are excellent. Enabling auto-fire on the joystick means that Sidewinder is a shrine of wanton destruction, but the ability to upgrade your weapons would have been awesome. Still, this is a great 'shoot-'em-up game that deserves a place in your library.
Amiga · by Katakis | カタキス (43051) · 2012
Contribute
Are you familiar with this game? Help document and preserve this entry in video game history!
Contributors to this Entry
Game added by Martin Smith.
PC Booter added by Trixter. Arcade added by S Olafsson.
Game added October 31st, 2004. Last modified November 13th, 2023.