Legend of Illusion starring Mickey Mouse
aka: Mickey Mouse: Densetsu no Ōkoku
Moby ID: 15718
Description
Once upon a mouse, there was a kingdom that was ruled by the selfish king Pete. One day, a terrible shadow crept over the kingdom, threatening the lives of its inhabitants. The king's adviser said the only way to stop the shadow would be for the king himself to travel out and to seek the cure. But the cowardly king Pete preferred to stay in the castle, and sent a simple laundry boy named Mickey instead!
As Mickey Mouse, you will travel through various levels in this platform game. Mickey shoots an unlimited amount of little balls on the enemies, can jump, climb on stairs, hang on ropes, and perform other tricks. Mickey can also pick up items and put them in another place, for example to access a higher level or to break a treasure chest open.
Spellings
ミッキーマウス伝説の王国 - Japanese spelling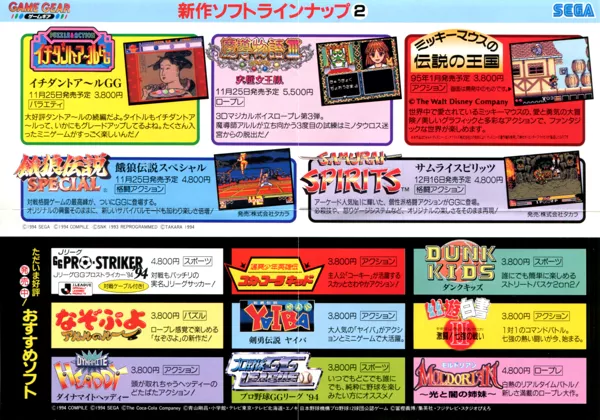 Credits (Game Gear version)
36 People · View all
Senior Producer
Producers
Producers
Assistant Producer
Directors
Programmers
Game Designers
Artists
Sound Project Coordinator
Sound Composers
Product Manager
Test Lead
Assistant Lead Testers
[ full credits ]
Critics
Average score: 75% (based on 11 ratings)
Players
Average score: 3.5 out of 5 (based on 10 ratings with 1 reviews)
The Good
Where platforming elements are concerned there are a few clever puzzles in the levels to break up an otherwise combat heavy game. If you like breezing through levels, this title won't be a problem. The ability to hold some items and use them later is a handy mechanic in the game. This game features not just Mickey, but also Goofy, Donald and Pete, not that they do too much in the game.

The Bad
Graphically this game is unimaginative with little to no backgrounds, just flat colours. The level objects and tiles have no variety, they're just patchworked throughout. Even the cutscenes didn't have attention to detail, so much for presentation. Paired with these ugly graphics are the lackluster music tracks.
Gameplay is no better than the game's audio and graphics. Gone is the thrilling bouncing on enemies and you get bars of wet soap to toss. You fight pretty mediocre enemies including cats, weasel guards, bubblehead snakes and other weird critters. Phantom enemies are only decent opponents. The platforming is badly broken up by a tedious runner stage and a straightforward flying stage. Fighting a dragon, a witch or the Horned King as a final boss is intriguing, but it's an anticlimax that you're fighting Pete instead after that battle with the Dark Sorcerer.

The Bottom Line
This game sadly suffers many of the defects of Fantasia and does not meet the golden highlights of Land of Illusion. It's like a poor adaptation of "The Prince and the Pauper" with crazy mixed up bits and pieces chalked in. If you grew up with both the Castle of Illusion and Land of Illusion games, then this one was never meant for you. Don't let this title dampen your fantasy.
Game Gear · by Kayburt (27363) · 2022
Contribute
Are you familiar with this game? Help document and preserve this entry in video game history!