Who Dares Wins II
aka: Comando Parachutiste: Who Dares Wins II, Mercenario
Eight invaded townships must be brought back under your control in this Commando-style shoot 'em up, which progresses vertically using a flick-screen system. You are armed with a rifle (activated by a short tap of the fire button) and five grenades (used via a longer press), and must not only kill off the enemy forces, but also rescue your comrades who have been tied to trees along the way. If you take too long then the prisoners will be executed by a firing squad. You begin at the bottom of the first screen and slowly make your way upwards; enemies pop up from all sides, walking around and shooting, and you have to dodge their shots while trying to shoot them yourself. The foes make good use of the decoy opportunities of the terrain, and you must do the same to have a chance. The levels include rivers with narrow bridges, potholes, and train-lines.
Extra supplies are dropped in as you progress through the game, as are extra lives in addition to your starting 5.
Spellings
Who Dares Wins 2 - Alternate spelling (media)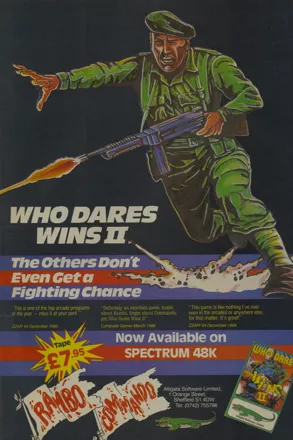 Credits (Commodore 64 version)
Critics
Average score: 71% (based on 8 ratings)
Players
Average score: 3.5 out of 5 (based on 28 ratings with 1 reviews)
The Good
The gripes I had in Who Dares Wins are fixed here. Your comrade is now tied to a tree so they don't move. Love the title screen music.

The Bad
Just that it gets hard later so you may become frustrated.

The Bottom Line
A fun one-man-against-an-army game.
Commodore 64 · by LepricahnsGold (142489) · 2005
Trivia
Injunction
Who Dares Wins II was released as a new version of Who Dares Wins, as the original had an injunction against it from Elite, who felt the game was too similar to Commando. The maps were changed to make it different from Commando.
Title Music
The title music from the C16 version was taken from the theme music to the film The Great Escape by John Sturges
Awards
Commodore Format

July 1991 (Issue 10) - listed in the A to Z of Classic Games article (Great)
Contribute
Are you familiar with this game? Help document and preserve this entry in video game history!