Description
An Ultima style RPG with an oriental flavor. The Deathlord and his army of demons are destroying the land and Emperor Nakamoto has called upon you and your party to fight back and defeat him. There are 8 races and 16 classes to choose from along with a handy translation guide that tells you a Genkai is really a Wizard and a Ryoshi is a specialized Fighter. The 84 spells also have Japanese names but their effects will be familiar to any fan of European style medieval adventures. In fact, Deathlord even includes a utility to import and Easternize your characters from Bard's Tale, Ultima III, and Wizardry.
One other thing to note is that Deathlord is quite large. The quest itself takes place on over a dozen continents each with multiple cities and dungeons. According to the estimate on the package, it is designed to fill "a few hundred hours" of the player's time.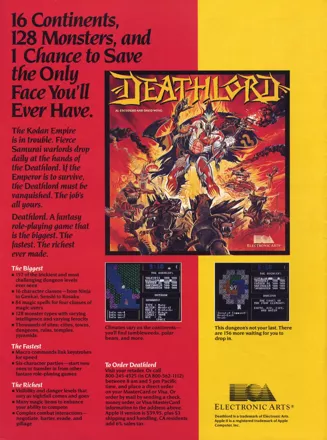 Credits (Apple II version)
16 People
| | |
| --- | --- |
| Software Design | |
| Programming | |
| Dungeon Design | |
| Producer | |
| Assistant Producer | |
| Testing Assistance | |
| Technical Support | |
| Software Title and Final Screens | |
| Documentation | |
| Art Director | |
| Packaging Design and Lettering | |
| Package Illustration | |
| Package Copy | |
| Screen Photography | |
| Manual | |
Critics
Average score: 76% (based on 4 ratings)
Players
Average score: 3.8 out of 5 (based on 4 ratings with 0 reviews)
Be the first to review this game!
Trivia
Wedge
Reportedly, this game's interface and gameplay similarities to Ultima (and perhaps its thematic similarities to Origin's Moebius series) led to a rift between Origin and Electronic Arts, leading the former to leave EA's affiliate publisher program in 1987 and setting a confrontational tone between Richard Garriott and Trip Hawkins.
Related Sites +
Commodore 64 Boxed Sets
For C64: high quality game packaging digitalisations. Include box, manual, brochure, additional material.
Lemon 64
For C64: game entry database; advertisement; magazine reviews; music; documentation; cover art; additional material.
Wikipedia, the free encyclopedia
Encyclopaedic entry for combined platforms.
Contribute
Are you familiar with this game? Help document and preserve this entry in video game history!