Earth Defense Force: World Brothers
Moby ID: 165503
Official Description

-A New Fight on a Square Earth
A new EDF adventure begins! Only this time, the action unfolds in a parallel world where the Earth is made of digital blocks. This world has befallen into chaos, as the once peaceful square Earth has been shattered into pieces. Shape aside, it is an Earth nonetheless which needs to be defended. It is now up to the EDF to restore peace to the square planet.
-Assemble Your Own Team
The Earth has been shattered into pieces. EDF soldiers are fighting desperately on their own in various countries around the world. Rescue these soldiers to have them join you, and assemble your own unique team. Each mission can be attempted with up to 4 teammates. Switch among your teammates as you go, making use of each character's unique traits which shall prove useful in battle at different times.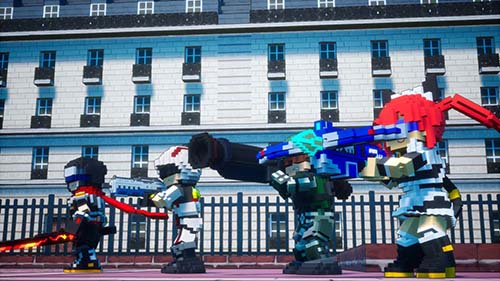 -Recruit Soldiers from Past EDF Games
Block versions of characters from every previous EDF release, from EDF1 ("Monster Attack") to "Earth Defense Force 5," and even the EDF spinoff releases, appear in the game. Also featured are a wide range of weapons and vehicles from past EDF releases. Series veterans will enjoy seeing these familiar characters and weapons, while those new to the series have the opportunity to be introduced to its rich history for the first time.
-Familiar Enemies
Enemies that invaded the Earth before make an appearance in this game, this time in block form.
-Online Co-Op
This game supports up to 4-player online co-op, with each player joining the battle using their own team.
-Story
In a parallel world where the Earth is made of blocks, evil has befallen the otherwise peaceful planet.
Led by Dark Tyrant, several Motherships suddenly attacked the planet, shattering the Earth into pieces.
The Earth has been attacked by the Invaders, Ravagers, and Aggressors before...but the brave EDF soldiers have always joined together to defend the planet from these threats.
With the Earth shattered, EDF soldiers continue fighting on each of their pieces of the planet. But with no way to reach each other to deliver aid or food supplies, the planet remains in despair.
You must assume the role of Commander of the EDF and fight back. Find the EDF soldiers fighting around the planet, and begin a counteroffensive. Only a powerful team assembled by you can save our square Earth.
Source: Steam Store Description
Spellings
ま~るい地球が四角くなった!? デジボク地球防衛軍 EARTH DEFENSE FORCE: WORLD BROTHERS - Japanese spelling
圆滚地球变四方?! 数码方块地球防卫军 EARTH DEFENSE FORCE: WORLD BROTHERS - Simplified Chinese spelling
圓滾地球變四方!? 數位方塊地球防衛軍 EARTH DEFENSE FORCE: WORLD BROTHERS - Traditional Chinese spelling
동~그란 지구가 네모가 됐다고!? 디지복셀 지구방위군 EARTH DEFENSE FORCE: WORLD BROTHERS - Korean spelling
Credits (Nintendo Switch version)
351 People (326 developers, 25 thanks) · View all
Producer
Daichi Mamoru / Urthda Fender
Joe
Chapalu
Kotaro
Chapalu
Kotaro
Chapalu
Kotaro
Nefer
Pao
Nefer
Pao
Nefer
Pao
[ full credits ]
Critics
Average score: 76% (based on 17 ratings)
Contribute
Are you familiar with this game? Help document and preserve this entry in video game history!
Contributors to this Entry
Game added by Rik Hideto.
Game added May 30th, 2021. Last modified June 30th, 2023.