Kings of the Beach
aka: Kings of the Beach: Professional Beach Volleyball
Kings of the Beach is a two on two beach volleyball game. You must quickly move your team about on the sand performing serves, thumps, and spikes to not only out-perform but also out-smart the opposing team.
There are 15 levels and 20 challengers to beat, on famous beaches like Rio, Hawaii and Sydney, in order to be crowned King of the Beach. Both cooperative and competitive multiplayer (non-networked) are also supported.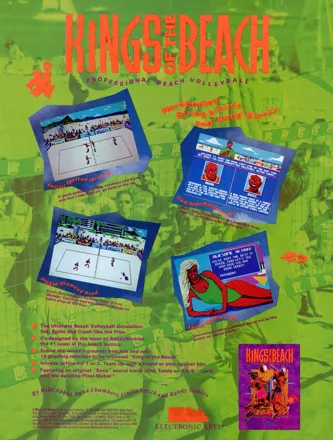 Credits (DOS version)
14 People
| | |
| --- | --- |
| Design | |
| Programming | |
| Graphics and Animation | |
| Music and Sound Effects | |
| Producer | |
| Technical Assistance | |
| Product Management | |
| Graphics Direction | |
| Package Design | |
| Photography | |
Trivia
Cameos
Lester from Skate or Die (and from Ski or Die which was released after Kings of the Beach), Hard Hat Mack, and other EA game characters made their cameo as your volleyball opponents in the game
Development
Mike Abbot creator of Hard Hat Mack (and a noted volleyball fan), created this game with his friend Nana Chambers. The two worked with world-renowned volleyball players to help design the gameplay.
Extras
The original game box had a press-on body tattoo inside.
Information also contributed by Kasey Chang and Roedie
Contribute
Know about this game? Add your expertise to help preserve this entry in video game history!