Kings of the Beach
aka: Kings of the Beach: Professional Beach Volleyball
(prices updated 9/25 7:17 AM )
Kings of the Beach is a two on two beach volleyball game. You must quickly move your team about on the sand performing serves, thumps, and spikes to not only out-perform but also out-smart the opposing team.
There are 15 levels and 20 challengers to beat, on famous beaches like Rio, Hawaii and Sydney, in order to be crowned King of the Beach. Both cooperative and competitive multiplayer (non-networked) are also supported.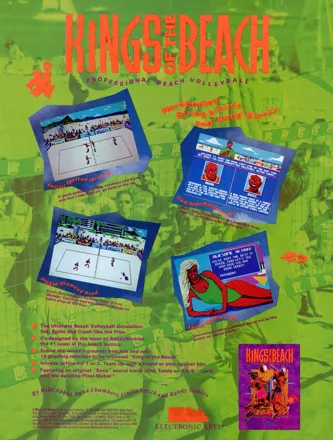 Credits (DOS version)
14 People
| | |
| --- | --- |
| Design | |
| Programming | |
| Graphics and Animation | |
| Music and Sound Effects | |
| Producer | |
| Technical Assistance | |
| Product Management | |
| Graphics Direction | |
| Package Design | |
| Photography | |
Critics
Average score: 81% (based on 13 ratings)
Players
Average score: 3.6 out of 5 (based on 28 ratings with 2 reviews)
Probably the ONLY Beach Volleyball game...

The Good
Simple interface (just 3 action buttons besides the direction keys!), easy to learn, plenty of practice (serve, set, spike), decent graphics (for its time)

The Bad
A bit TOO simple at times, as blocking and spiking is mainly guessing (it's nearly impossible to fake the AI at the highest levels), requires just a BIT too much timing (it's HARD to just "lob" a ball instead of spiking it, and to jump for a block at EXACTLY the right time), gets repetitive after a while

The Bottom Line
KotB is probably the only beach volleyball game ever (certainly don't remember any other). It uses a third-person perspective where you can see the whole court from the "side". You control one player while the AI controls the other. You can pass/set for each other, spike, block, and do other moves. You can even serve three different ways, including jump serve! The "campaign" is to win the world BVB championship by playing in tournaments in various locales (from Rio to Miami to Long Beach and so on) against various AI opponents.
The characters are small by nicely animated. After getting a point your characters will high-five each other. A hard spike can cause the opponent to miss a dig and do a roll, then stand up and brush off the sand... If you win your two players will do a victory dance. Some of the characters will even argue with the referee, and maybe even issued a yellow or red card!
The controls are very simple: just three action buttons low, middle, and high. When serving you get three different serves. When playing low is dig, middle is set, and high is jump/block/spike.
The game is quite simple but quite entertaining, as you will swear after losing points and cheer after winning points. The graphics are simple and the music simple, but it is effective in drawing you into the game world.
All in all, it's due for a serious remake, now that Beach Volleyball is an acknowledged Olympic sport. If you can find it, it's worth trying for nostalgia's sake.
DOS · by Kasey Chang (4601) · 2001
The only playable v-ball game I know.

The Good
While soccer, basketball and hockey titles are released in truckloads, volleyball games are really rare. Being someone who usually is in the mood for something different, Kings of the Beach scored its first points by virtue of being original. As the title indicates, the game is about beach volleyball instead of the regular volleyball. There are six players on a normal v-ball team; there are only two on each side during a game of beach v-ball, which enables the controls to be simple. KotB is a v-ball game with the basic bump, set, spike and block actions. Besides the keypad you use only three keys, so the game is easy to control.
KotB simulates the sport nicely and delivers some tense v-ball on your PC, with long rally's and back & forth switching service possessions. The changing direction of the wind affects your service. The computer A.I. gets better as you progress in the tournament and you'll be up against some serious opposition when you play the final matches. The A.I. has no big flaws so there is no standard recipe with which you can win a game. The only flaw is that the computer doesn't block if you return the ball when you touch it for the second time. It seems to expect that you touch the ball three times. This does not affect the gameplay in a bad way.
Although the player sprites are a bit on the small side the graphics are O.K. The developers fully utilized the EGA color spectrum and the player animations are well done. I also liked the backgrounds. Finally the developers added some subtle finishing touches. You can knock over your opponent with a powerful smash and complain with the referee about a bad decision.

The Bad
Maybe the controls are too simple; you do not seem to be able to give any direction to the ball. The ball seems to go to a certain direction at random. Also it is hard to judge where the ball will go (when returned by the opposition), this is especially the case after your spike is deflected by a block. This makes backcourt play rather difficult. You're advised to let your computer buddy do the backcourt play and concentrate on blocking at the net. The two player cooperative mode is thus a mission impossible. A final complaint: you need to win three consecutive matches before you receive a password.

The Bottom Line
The only playable v-ball game I know, in fact it is the only v-ball game I know besides the poor Arcade Volleyball. If you want to play a v-ball game I suggest you take this one. It's a lot better than Arcade Volleyball .
DOS · by Roedie (5221) · 2001
Trivia
Cameos
Lester from Skate or Die (and from Ski or Die which was released after Kings of the Beach), Hard Hat Mack, and other EA game characters made their cameo as your volleyball opponents in the game
Development
Mike Abbot creator of Hard Hat Mack (and a noted volleyball fan), created this game with his friend Nana Chambers. The two worked with world-renowned volleyball players to help design the gameplay.
Extras
The original game box had a press-on body tattoo inside.
Information also contributed by Kasey Chang and Roedie
Contribute
Are you familiar with this game? Help document and preserve this entry in video game history!