Genre

Perspective

Gameplay

Interface

Setting
Description
Attack at EP-CYG-4 is a side-scrolling arcade game for the 8-bit Atari.
It was in 2056, that the world was startled by the first communication from intelligent beings on another planet. The beings, called the Ologians, hailed from Epsilon-Cygnus-4. They brought news from their planet, that to make war bloodless, all battles would be fought by machines, and limited to "means of production". Unfortunately, these machines, tired of being destroyed in the Ologian battles, revolted and called themselves the Tartillians. Not satisfied with just destroying the Ologians, the Tartillians have set their sights on the Earth. In 2072, the first Tartillian interplanetary bomb was detonated above the Earth's surface. Fortunately, the Earth has spent the last 16 years preparing for the counterattack, and the first squadron of Earth's attack force is now approaching EP-CYG-4.
The player controls a Gravitron Drive attack ship to attack the surface of EP-CYG-4. The ship can be moves in all directions, and the direction of its firing can be rotated 360 degrees. The player travels through a number of screens of alien terrain, and tries to destroy all of the alien installations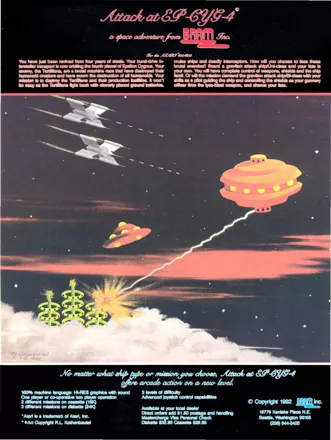 Credits (Atari 8-bit version)
Contribute
Know about this game? Add your expertise to help preserve this entry in video game history!
Contributors to this Entry
Game added by hoeksmas.
Last modified February 22nd, 2023.