In the future, races are held across America where the drivers race for money, and their lives. You are the rookie. Welcome to Deathtrack.
Starting off the game with a meager sum, you can choose from three cars (either speedy, plenty of firepower or heavily-armored) and begin practicing for your races against the other drivers.
Your opponents have all been captured in 16-colour digital photo splendour. Featuring 3D polygonal cars racing against each other, they try their best to remove you from the race, permanently.
Your winnings can be used to upgrade your car's armor, weapons and parts to make your car impervious to harm, a juggernaut of firepower, hurtling down the 10 available tracks.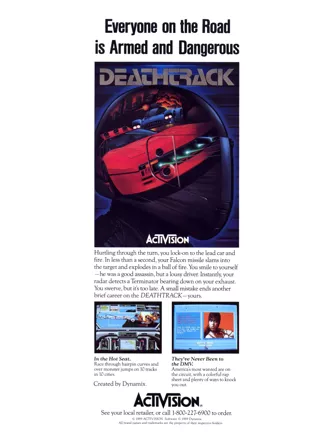 Credits (DOS version)
36 People (25 developers, 11 thanks) · View all
Program
Art
3D Art
Music
Sounds
Tracks
Photography
Casting & Makeup
Starring
Producers
[ full credits ]
Critics
Average score: 71% (based on 3 ratings)
Players
Average score: 3.5 out of 5 (based on 32 ratings with 4 reviews)
Move over punk! Here is the Roadwarrior.

The Good
It's vehicular combat! I simply love the concept of driving & destroying, I like Quarantine and Interstate '76, although those games are first person shooters on wheels while Deathtrack is a racing game.
It's got personality and a dark post-apocalyptic atmosphere. The opponents have got character and there is some dark humor in the game (for instance the descriptions of weapons).
It's got more different weapons than other "racing with weapons" type of games. Some of the weapons are pretty cool & original, especially the Terminators. These skate-boards with a bomb keep racing around the track after you've launched them so watch your back.
3D modeled cars & digitized images of opponents.


The Bad

Poor audio, where is the sound of roaring engines?
Driving doesn't feel like driving. You don't get the feeling that you are really driving a car.
The gameplay can be a bit unforgiving. If you drive a bad race and have a lot of damage you probably don't have enough cash to repair the damage. And when your car is in no condition to race you're stuck.
Runs way too fast on a modern PC and MoSlo doesn't seem to work. So you can't play it unless you still have a 286.


The Bottom Line
An extremely cool vehicular combat game with attitude. I wish I never got rid of my old 286.
DOS · by Roedie (5221) · 2001
The best car shooter of the time.

The Good
I don't like racing games. I really don't. I don't even like driving my car. It's boring. So why would I like to play such a game in my free time? The only exception to that is those games with an edge - those games where you shoot, crash, destroy, exterminate, wipe out, run down, annihilate, or any combination of them, your opponents and innocent bystanders. But this game, although not the first of its kind, is still great, and spawned such games as Hi Octane, Death Rally and Rollcage.
You see, I used to play a lot of Test Drive (don't ask), and it annoyed the hell out of me. I couldn't figure out why I there had to be any other cars on the road. I kept trying to push them off the road but it never worked. Oh, the horror!
Imagine my delight when I first met Deathtrack - not only you can crash other cars into things - you get to SHOOT them! You can even lay mines, and hope the other cars will drive on them. Sometimes you got paid to kill blow up another car - and the funny thing is - you'd have done it anyway!
God, this game was fun. No more boring drives through a winding road. If someone dares to overtake you - SHOOT him!
There is a life lesson here somewhere - but I'll be damned if I know what it is…
Deathtrack featured a cool vector engine for its time, which runs fast, although its nothing like the phenomenal Stunt Car Racer.

The Bad
Well, you remember the great radio stations in Outrun? Where you had a choice between several great tunes? Nothing like that here. In Deathtrack, you get a sleepy Adlib tune, which sounds as if it was written under the influence of several sleeping pills. It sounds like it is supposed to be exhilarating, but only manages the opposite.
The AI is really bad - and it often seems that the other drivers are morons, but then again, it seems like that to me all the time.


The Bottom Line
Deathtrack is the game I want to play in real life - shoot morons off the road.
[Someone tell the nice man in the white robe that I am perfectly sane. I don't need a shot. Really!]
DOS · by Mickey Gabel (332) · 2000
Fun and antisocial - shame about the (lack of) ending.

The Good
Deathtrack is one thing - FUN. Load up your rockets, caltrops, guns, and mines. Get on the race track. Go green on a mortal combat demolition derby. Then, assuming you're still alive, go back to the shop for some more... There's an enjoyable, predatory sense to Deathtrack; you can hunt down your enemies one by one, gain revenge for that misplaced rocket in the last race, or just sit back and launch stuff until the racetrack is filled with burning hulks. All the other drivers have distinct personalities, and their cars become increasingly bizarre (as does yours). You'll find yourself going round and round the championship circuit for hours.

The Bad
The main problem with Deathtrack is the repetition - the game doesn't appear to ever end. This is fun for a long while, but once you've gone around the same set of tracks ten or more times, dropped a few thousand caltrops, and are pretty much invincible, the game loses a certain amount of replay value.

The Bottom Line
Despite the myriad car-shooter games that preceded and followed Deathtrack, the game has a pure, antisocial quality to it that most others lack. No storyline, no complications - just round-the-track adrenaline. It may not keep you engaged beyond a week, but the ride is great fun while it lasts.
DOS · by Colin Rowsell (43) · 2002
Trivia
Development
Designer notes from the manual:
The Creators of DeathTrack: Tom Collie, Mark Brenneman, Darek Lukaszuk, Bryce Morsello

It was a cool autumn day when we all sat down to find a fun game concept that would excite players into that emotional catharsis that results only from that unique combination of speed and maneuverability delivered by a car-racing game. And, more importantly, a game concept that would let us pose in front of a Ferrari looking nonchalant. With that solid premise we set to work on DeathTrack—after, of course, convincing everyone that we were qualified to create a game about motorsports.

Mark: "I know cars, man. I spent seven years off the coast of Alaska, so I know cars."

Bryce: "The Ferrari Testarossa is the serious mad-racer's choice. You can very well race without power windows, can you?"

Tom: "I really know vintage cars. I've got a 1978 Ford Fiesta that works as well now as when it was new."

Darek: "I own a Mercedes, man. What more do you want?"

After dazzling them with our innate sense of automible racing, we went for it. Darek wrote the code, Tom did the art and Bryce sound effects, and Mark built all the 3-space objects. Jeff got us pizza late nights and ran errands (he was also company president in his spare time).

Drive safely and remember: "Porsche" is a two-syllable word.

Pit crew:

Piotr "11mm" Lukaszuk for fast graphics Dave "Wiz" McClurg for 3-space etc. Paul Bowman for playing foosball with us Jeff "Really, I am the president" Tunnel Steve "Is yesterday too soon?" Ackrich

Dedicated to the memory of Enzo Ferrari.

Moral Support: W.L., T.L., T.R., A.T., C.T., T.H., S.S.

Thanks to Steve Wendell for the red Ferrari (we'll probably return it soon).

Special thanks to Terry Ishida.
References
Game designer Peter (Piotr) Lukaszuk makes a cameo as the cape-wearing gangster.
The Lukaszuk brothers, Darek and Piotr, who wrote the game and designed the graphics, come from Poland and placed a reference to that fact: one of the drivers in the game is named "Wrecker Niszczyciel" (translated, this means, literally - Wrecker the Destroyer), he's from Warsaw, Poland, and his motto is given in Polish (the Lukaszuk bros even retained the national characters in it). Translated to English, Wrecker's motto means: "Sausages are best when fried with laser guns".
Remake
The game was loosely remade as Death Track: Resurrection in 2008.
Awards
Computer Gaming World

November 1996 (15th anniversary issue) – #124 in the "150 Best Games of All Time" list
Information also contributed by Jaromir Krol and Sciere
Contribute
Are you familiar with this game? Help document and preserve this entry in video game history!