Kirby: Canvas Curse
aka: Kirby: Cursed Canvas, Kirby: El Pincel del poder, Kirby: L'oscuro disegno, Kirby: Le Pinceau du Pouvoir, Kirby: Power Paintbrush, Kirby: Power-Malpinsel, Quick-Draw Kirby, Touch! Kirby Mahou no Efude
Kirby's first DS adventure starts with an evil witch turning Kirby into a ball. You must use the Magic Paintbrush that the witch left behind, which is of course the DS Stylus. You will draw walls to turn Kirby around and block enemy attacks, ramps to make Kirby jump, and straight lines to keep Kirby from falling. Your goal will be to reach the door at the end of each stage to progress through the level.
There are 7 worlds to explore, each with enemies that stand in your way. You can touch Kirby to make him go fast and run down your enemies, or you can simply touch the enemy to stun them, then let Kirby attack. You can copy abilities from defeated foes to use for your benefit like becoming a rock, or a balloon, or even a tire with quick speed. There are many abilities that Kirby can use.
Each stage of the game contains Medals that you swap to get prizes and bonuses in the game. Another Game Mode is Rainbow Run which lets you play through the regular stages again and try to beat them in a certain time and with as little Stylus strokes as possible. The last mode is the Subgames mode, which is a set of mini-games that becomes unlocked through the main game.
Spellings
タッチ!カービィ - Japanese spelling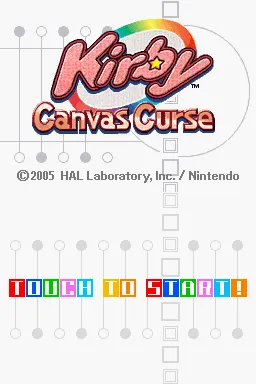 Credits (Nintendo DS version)
66 People (54 developers, 12 thanks) · View all
Director
Assistant Directors
Program Director
Programming
Design Director
Design
[ full credits ]
Trivia
Awards
4Players

2005 – Best Dexterity Game of the Year

GameSpy

2005 – Nintendo DS Platformer of the Year
Contribute
Know about this game? Add your expertise to help preserve this entry in video game history!