Description
Six ruthless dictators have collaborated to create the planet Draconia, which contains some of the most gruesome and harmful life-forms imaginable, all indulging in some rather unsavoury actions. Thus, you must go in your spaceship to destroy them all.
The game is a side-scrolling R-Type-influenced shoot 'em up consisting of six visually-diverse levels. Waves of enemies come towards you to be shot, and reveal tokens, which when shot at will cycle through several available weapons. These include lasers, cannons, improved ship power and a shield.
Spellings
חיים או מוות - Hebrew spelling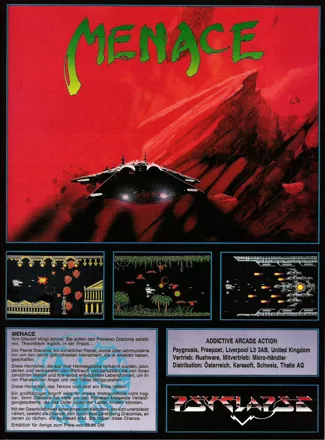 Credits (Amiga version)
4 People
| | |
| --- | --- |
| Programming | |
| Graphics / Artwork | |
| Musician | |
| Cover artwork by | |
Critics
Average score: 75% (based on 13 ratings)
Players
Average score: 3.8 out of 5 (based on 34 ratings with 0 reviews)
Be the first to review this game!
Trivia
Cancelled port
Harlequin Software was preparing an Atari 8-bit conversion in 1990, but serious illness to the programmer prevented it from being completed.
Development
Originally, the levels in Draconia had names such as "Irem Battlestation", "Konamian Graveyard" and "Jungles of Capcom", in reference to the famous coin-op shoot'em'up makers. This was changed at the last minute, along with the title of the game, but not before the July 1988 issue of Commodore User had managed to review it.
Information also contributed by Martin Smith.
Contribute
Are you familiar with this game? Help document and preserve this entry in video game history!