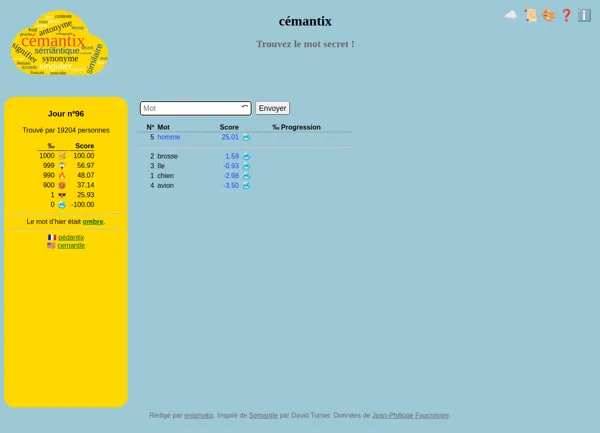 Genre

Perspective

Interface
Business Model

Number of Offline Players
Official Site
Description
cémantix is a daily word-guessing game, similar to Wordle, but based on semantic similarity rather than guessing the word letter-by-letter. It employs the Word2Vec machine learning model to determine relationships between words. It is inspired by an earlier game of this type, Semantle.
The player's goal is to guess a target French word, which is different every day. The player inputs his guesses, and the game shows a numerical measure of the guessed word's semantic similarity to the target word. For example, if the target word is monde ("world"), then words like terre ("earth") or pays ("country") would have a high similarity score, while chat ("cat") would have a low or even negative score.
Credits (Browser version)
| | |
| --- | --- |
| Created by (Rédigé par) | |
| Inspired by Semantle by (Inspiré de Semantle par) | |
| Data from (Données de) | |
Related Sites +
r/cemantix - Reddit
A French-language Reddit community dedicated to the games <i>pédantix</i>, <i>cémantix</i>, <i>Pedantle</i> and <i>Cemantle</i>.
Contribute
Are you familiar with this game? Help document and preserve this entry in video game history!