Icewind Dale
aka: Bingfeng zhi Gu, IWD
Moby ID: 1898
Add-on (official)
In the Northern parts of Faerûn the winter never ends. In this harsh realm of ice only a few tough survivors live, and nowadays even those hardy few find the conditions a tad tougher. A party of adventurers has just arrived at the small fishing town of Easthaven. Its leader Hrothgar organizes an expedition to help a troubled nearby tree-village, Kuldahar. The party joins the expedition, but an ambush by frost giants causes an avalanche, killing everyone but the heroes themselves. Now they must continue Hrothgar's quest and discover the source of the evil that threatens the land.
Icewind Dale is a party-based role-playing game with real-time combat, very similar in visual style and basic gameplay mechanics to Baldur's Gate. The game utilizes the second edition of the Advanced Dungeons & Dragons rules. As opposed to Baldur's Gate (and similarly to older AD&D RPGs), the player is free to create a party of up to six characters belonging to various races and classes; no characters inhabiting the game world are able to join the party afterwards. Compared to Baldur's Gate and Planescape: Torment by the same developers, Icewind Dale is more combat-oriented; it has a linear plot advancement and focuses on extensive exploration of hostile areas rather than conversations with characters and quests.
Spellings
冰風之谷 - Traditional Chinese spelling
冰风之谷 - Simplified Chinese spelling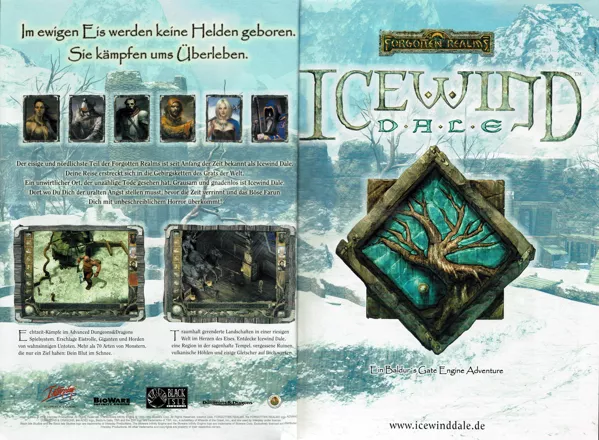 Credits (Windows version)
210 People (153 developers, 57 thanks) · View all
Division Director
Producer
Associate Producer
Additonal Production Assistance
Divisions Operations Manager
Programming
Additional Programming
Movie and Audio Compression Technology
Artists
[ full credits ]
Critics
Average score: 81% (based on 47 ratings)
Players
Average score: 4.0 out of 5 (based on 123 ratings with 6 reviews)
Excellent break from the Baldur's Gate series.

The Good
The first thing I noticed about this game was that there is much more fighting and much less talking going on. I thought it might just be part of the beginning of the game but I was wrong, its basically an all-out hack-n-slash fest through the whole game. Its packed with tons of magical weapons, armors and items to aid you in battle, which you almost always seem to be in. It was a nice break from the 2000 page novel that you basically read by the time you finished Baldur's Gate 2. It had a decent story line where it basically left you chasing evil through out Icewind Dale searching for the source of the evil consuming the region. Lots of weird twists and turns, allows you to play an evil character with a fair degree of accuracy. Some choices such as allowing the girl-thief to escape the ice salamander lair with the slaves results in a large amount of EXP but if you side with the salamanders and kill her and the slaves, you can get a ton more EXP. Lots of good choices to keep the replay value high. Many good spells, allows you to advance your mages from 1st to 9th level casting.

The Bad
The fact that it was an all out kill fest meant that there wasn't going to be many towns. Even near the end of the game you found yourself having to wander 8 days back to Kuldahar to buy weapons that were barely good at first level. There is a good weapons dealer near Upper Dorns Deep but you have to walk through many screens to get there, it takes too long. The shops always sell the same thing and eventually become useless except for a place to get rid of junk. I hate the way in Kuldahar (which is basically the only town besides Easthaven) you have to wander from shop to shop because each shop only buys specific items. It becomes a hassle, I started just dropping equipment just to save myself the hassle of trying to sell the junk.
A thief is a must in these games, I can't stand the way that this game doesn't give your thief EXP for disarming traps. Of Course a thief should get EXP for it.
Like all of the Infinity-Engine games from Black Isle, the AI makes your characters border-line retarded. Sometimes they walk in to each other, even obvious paths to a destination cause them to get confused and end up walking a completely longer path. It gets a little better if you find a few boots of speed to separate them a little bit but the AI is still pretty bad. The scripting is a joke, I set my cleric to a Passive-Fighter and my cleric just stood there and casted bless over and over and over. I don't like the scripting. Gold is basically worthless in the game, except you spend so long saving for 1 really expensive item thats not that good anyways. You find pretty much everything that is good in the game. No resolution adjustment either, crappy 640X480 only. I couldn't figure out how to reassign the "SELECT ALL" key which is the Plus key, out of all the keys you could reassign, it won't let you reassign the most important hotkey in my opinion.
The game is fairly short compared to Baldur's Gate 2 but its still long enough though.

The Bottom Line
Definitely worth a try if you like the BG series. A great buy for only about 20 bucks not days too!
Windows · by OlSkool_Gamer (88) · 2004
Not just another overrated RPG

The Good
The entire reason that I bought this game in the first was that when I looked at the system requirements, I saw that it would not take up my entire hard drive and could be played on my computer rather well, which is more than I can say for most fun-looking RPGs that I find in the computer stores. Such factors led me to severe disappointment with games such as "Ultima IX" and American McGee's "Alice." Also, the fact that it has traditionally gotten good reviews, such as by the cashier who approvingly stated: "Icewind Dale." as I handed him the box. When I got around to actually playing the game, I was impressed with the sharpness and customizability of the graphics (i.e. you characters look different which each different item you equip on them). Also, the combat system, though it may seem rather confusing at first, was to my enjoyment because it is simple enough to get the hand of after a few battles while being complex enough to avoid the monotony of games like "Diablo." The challenge appealed to me as well. This game is a bit more difficult than most other modern RPGs, with enemy ambushes, cleverly placed traps and the like. On a more personal note, I find the game's isometric graphic interface easier to play on.

The Bad
This game, as good as it is, comes with one major catch. It takes FREAKIN' FOREVER to figure out how to play it. It took me nearly 2 hours to read the instruction manual, and starting a new game can take up to an hour as well, which beginners will find themselves doing quite often in order to find a good balance in character creation. Those unfamiliar with Dungeons and Dragons style games (i.e. me) will need a while to get used to it. But hey, if you've got the patience and the time then go for it.

The Bottom Line
While Icewind Dale uses a Dungeons and Dragons style of play, it is not a requirement that you have played D&D before to be able to play Icewind Dale. Players take a highly customizable party (six characters, the player sets everything from gender to occupation to personality) into a cold, icy, northern environment filled with a diverse assortment of locations, characters and enemy creatures. The game will test the player's wit and imagination as well as combat skills, so you won't just go around clicking on stuff (I'm not a big fan of Diablo, in case you can't tell). I definite must-play for the RPG fan.
Windows · by Sam Tinianow (113) · 2001
Superb RPG - But it lacks the soul of AD&D

The Good
For players that have been around since the first AD&D rpg's, a dream come true is when you actually see what those spells are good for in battle. This game is one of the long lists of that made that happen (finally burning touch has its uses..hehehe).
The real-time combat was excellent, fast and rough (you'll discover later that there are some real-time combat of of future AD&D stink...ehem...like the 3D Pool of Radiance).
The graphics were astounding, although I don't recall there was a very good intro, like Diablo? Then again, who can compare the graphics of Diablo...HA!

The Bad
There was something that I was EXTREMELY disturbed about the game, which is probably the only reason I bothered to review this game anyway.
THE LANGUAGE! My God, I do recall some kind nasty lines (although optional), that some of the characters (your) leader could say, if you chose that. Hey, I know, your characters could be chaotic evil, but this is a GAME, where KIDS play, and this is not something a AD&D game should introduce: Foul Language, its bad for the morals, mate. An -E grade for "Soul" for the creators of this game!

The Bottom Line
Nice, if you don't mind the language...
Windows · by Indra was here (20633) · 2002
Trivia
Preview version
In the preview version distributed to gaming magazines the end boss had special dialogue (mostly threats), e.g. "I slaughtered many editors and their families."
Sales
Icewind Dale hit the shelves the exact same time as Blizzard's Diablo 2. Despite selling numbers that were below the "Big D", Icewind Dale was a good commercial success.
Contribute
Are you familiar with this game? Help document and preserve this entry in video game history!