Icewind Dale
aka: Bingfeng zhi Gu, IWD
Moby ID: 1898
Official Add-on
In the Northern parts of Faerûn the winter never ends. In this harsh realm of ice only a few tough survivors live, and nowadays even those hardy few find the conditions a tad tougher. A party of adventurers has just arrived at the small fishing town of Easthaven. Its leader Hrothgar organizes an expedition to help a troubled nearby tree-village, Kuldahar. The party joins the expedition, but an ambush by frost giants causes an avalanche, killing everyone but the heroes themselves. Now they must continue Hrothgar's quest and discover the source of the evil that threatens the land.
Icewind Dale is a party-based role-playing game with real-time combat, very similar in visual style and basic gameplay mechanics to Baldur's Gate. The game utilizes the second edition of the Advanced Dungeons & Dragons rules. As opposed to Baldur's Gate (and similarly to older AD&D RPGs), the player is free to create a party of up to six characters belonging to various races and classes; no characters inhabiting the game world are able to join the party afterwards. Compared to Baldur's Gate and Planescape: Torment by the same developers, Icewind Dale is more combat-oriented; it has a linear plot advancement and focuses on extensive exploration of hostile areas rather than conversations with characters and quests.
Spellings
冰風之谷 - Traditional Chinese spelling
冰风之谷 - Simplified Chinese spelling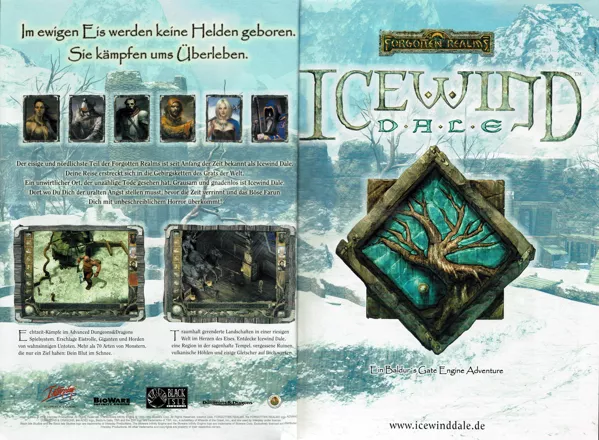 Credits (Windows version)
210 People (153 developers, 57 thanks) · View all
Division Director
Producer
Associate Producer
Additonal Production Assistance
Divisions Operations Manager
Programming
Additional Programming
Movie and Audio Compression Technology
Artists
[ full credits ]
Critics
Average score: 81% (based on 47 ratings)
Players
Average score: 4.0 out of 5 (based on 123 ratings with 6 reviews)
The Good
Let me just say that I have finished IWD twice and re-started it about 5 times. I was new to D&D when I started and it while you can get the main concepts easily you gain a lot by understanding the stuff that happens behind the curtains.
Once you do get to know the mechanics of D&D and the world of IWD, the game really shines. The story is interesting and the fights are fun. There are a lot of treasures to find and bodies to loot. The spells are awesome and the effects are cool as well.
The game will give you plenty of time to finish as there are many battles and as I said it takes time to learn the world of IWD. If you want to play on the easy level and just hack & slash you way through the game you will miss a lot.
I strongly advice you plan your party carefully and read all the tips about party creation online. It really makes a difference to have the right party.
Also the tools from TeamBG for IWD are cool to have, but don't use them to cheat!
There is an unofficial patch for IWD that removes a lot of the annoying things that I also recommend installing.
Also, if you get to read the books of R.A Salvatore it also adds whole new depths to the game.

The Bad
Well, the game is a few years old and it shows a bit, but don't let it effect you.
Sometimes through all the battles it is hard to see the "big" picture.
There is a steep learning curve to fully enjoy and benefit the game.
When there are many spells effects the game can slow to a crawl. This may be fixable.

The Bottom Line
Wonderful that can serve as a way to enter the wonderful of RPG and D&D. Can be finished easily but played again and again once you learn more about how the game works. A real gem!
Windows · by The Gay Elf (12) · 2005
Superb RPG - But it lacks the soul of AD&D

The Good
For players that have been around since the first AD&D rpg's, a dream come true is when you actually see what those spells are good for in battle. This game is one of the long lists of that made that happen (finally burning touch has its uses..hehehe).
The real-time combat was excellent, fast and rough (you'll discover later that there are some real-time combat of of future AD&D stink...ehem...like the 3D Pool of Radiance).
The graphics were astounding, although I don't recall there was a very good intro, like Diablo? Then again, who can compare the graphics of Diablo...HA!

The Bad
There was something that I was EXTREMELY disturbed about the game, which is probably the only reason I bothered to review this game anyway.
THE LANGUAGE! My God, I do recall some kind nasty lines (although optional), that some of the characters (your) leader could say, if you chose that. Hey, I know, your characters could be chaotic evil, but this is a GAME, where KIDS play, and this is not something a AD&D game should introduce: Foul Language, its bad for the morals, mate. An -E grade for "Soul" for the creators of this game!

The Bottom Line
Nice, if you don't mind the language...
Windows · by Indra was here (20633) · 2002
Old times recaptured in a straight line

The Good
Released roughly at the same time as Diablo II, Icewind Dale was Black Isle's effort to present a deeper alternative to simplistic action-based combat in role-playing games, at the same time not shying away from basing a game on simple dungeon crawling. In reality, Icewind Dale is much closer to old AD&D Gold Box games than to Diablo: it focuses on party management and tactical combat much more heavily than on character customization and item-collecting.
The game deliberately distances itself from its "older brother" Baldur's Gate, being much less story-driven and much more combat-heavy. While it's easy to dismiss it at first as a dull plot-less version of Baldur's Gate, the fact is that Icewind Dale excels in other areas. It is closer to Might and Magic in that party creation and subsequent management is in the spotlight, and the addictive fun comes from all those countless combinations you can achieve by creating your ultimate band of heroes. Neither Baldur's Gate, nor any other RPG of the "Renaissance" era (or any other that was based on Ultima, for that matter) allowed you to do that. You lose character sub-plots and inter-party bantering, but gain more control and deeper role-playing of your own characters.
AD&D rules are quite restrictive, so character creation cannot compare to, say, that of post-sixth Wizardry games, let alone the obsessive depth of Darklands, which makes Icewind Dale a less intimidating, but still reasonably hardcore RPG. It is very easy to get into and start playing. You won't be humiliatingly beaten during your first battle just because you failed to do some complex math while creating your spellcaster, but your ability to manage your party will be challenged at all times.
The main fun in the game comes from combat. Hands down, Icewind Dale has one of the best combat systems around, mixing tactical thinking and reflexes in just the right proportions. The balancing is frankly better than in any other Infinity engine game, and the difficulty level is just right. Preparation, positioning, movement, delicate balance of buffing, status ailments, offensive and defensive spells - everything plays a role, and is a joy to experiment with.
While Icewind Dale is a linear game, its dungeons, where most of it takes place, are quite large. The game also has marvelous old-fashioned 2D graphics that convey plenty of atmosphere. You won't be stuck in depressing mazes that look all the same - you'll be gradually advancing through haunting, lovingly detailed areas, accompanied by a sweet soundtrack starting with the unforgettable "Nordic" theme of the game's opening location.
Even though there are very few friendly areas or characters to talk to in the game, what little there is of the dialogue is surprisingly well-written, and almost every conversation is a pleasure to read.

The Bad
If you expect a large world, exploration, plenty of choices, interaction with many NPCs, etc., you won't find any of that here. This is a simple dungeon crawler with forgiving dungeons; it's not a game of exploration, but rather a game that throws lots of enemies at you and not much else. It's as basic as it gets: receive a quest, clear area A, proceed to area B, receive another quest, rinse and repeat. You must do everything in a particular order and only go where you are told to.
The game is very linear, the main quests are always the same and you have very few sub-quests - actually, no sub-quests worth mentioning. The story is paper-thin: there are a couple of nice twists, but the plot isn't very involving and is also quite slow-moving. You can't decide almost anything during the game, you'll have to kill everybody you are supposed to kill, and you can't kill anybody you are not supposed to kill.
In short, Icewind Dale is a throwback - a well-executed one, but a throwback nevertheless. Your final evaluation of this game would entirely depend on how much you like to see a fairly primitive, simple crawler revitalized with a superb engine.

The Bottom Line
Ease of playing, fantastically balanced combat, and addictive party-building make Icewind Dale a good, solid RPG; but it still feels somewhat too streamlined, too accommodated to the preferences of modern impatient players. I find Baldur's Gate games much more compelling in every way.
Windows · by Unicorn Lynx (180476) · 2017
Trivia
Preview version
In the preview version distributed to gaming magazines the end boss had special dialogue (mostly threats), e.g. "I slaughtered many editors and their families."
Sales
Icewind Dale hit the shelves the exact same time as Blizzard's Diablo 2. Despite selling numbers that were below the "Big D", Icewind Dale was a good commercial success.
Contribute
Are you familiar with this game? Help document and preserve this entry in video game history!