Shadow Knights
aka: Budō: The Art of Ninja Combat!, Shadow Knights: The Shogun of Death
As a ninja with a mission to "redeem Naipusan, the once peaceful land that was destroyed by the northern armies", you have to defeat the evil Shogun of Death.
Shadow Knights is a platform game where you try to complete several levels, such as a village, a cemetery or a castle, before confronting the final boss. On each level, you'll encounter a lot of enemies - initially dogs and ninjas with clubs and bows, but more types of enemies appear later.
To defeat them, you can slash at them with your sword. However, your ninja also has magic powers. He can spend this magical energy to toss magical projectiles at the enemies, or to restore his health. Depleted magical energy can be refilled by collecting golden spheres scattered throughout the levels.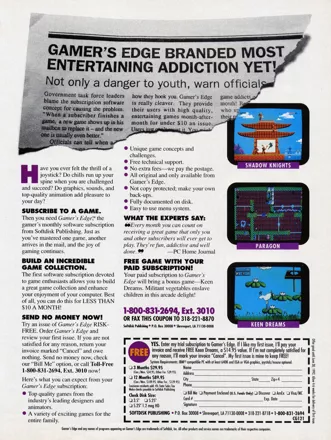 Credits (DOS version)
4 People
| | |
| --- | --- |
| Design | |
| Programming | |
| Graphics / Artwork | |
| Creative Consultant | |
| Level Design | |
| Sound | |
Players
Average score: 3.7 out of 5 (based on 9 ratings with 1 reviews)
Banzai for id Software's oldies

The Good
Strange how this game has captivated me from the first moment. Of course, at the time I first played it, I was a little obsessed with the Japanese/Chinese culture. Anyway, the game is a fighting platform game, which unfortunately has to be played more than once because it may look hard. But it isn't.
The story of the game is a little obscure, foggy I could say, I didn't know there was a story until I've finished the game, so I guess I should have read the manual or something. Anyway, the story isn't very important in a platform game. The control is mostly intuitive, and gives you great mobility. Along with the usual movement/hit keys, you can also spend some magic points (which you gain by taking power-ups and finishing levels) by recharging your health or by shooting fireballs (at least I think they're fireballs). Well, you can't expect a game from 1990 to have a great soundtrack, can you? So the sounds are quite mediocre, but not bad.

The Bad
As I said, the story is missing a little, you get a hint in the end but it doesn't mean much. Without spoiling anything, I must say you play the good guy, although ninjas were usually thieves and murderers. Well, the bad guys aren't very clever actually, but it's better this way. One frustrating thing in this game are the dogs, which act a little too fast, and if you don't know where they are supposed to come from, you'll probably lose some health in killing them. Also there is a point in the game where the game gets much harder, but then you get used to it and you go on till the very end.

The Bottom Line
Shadow Knights is a game that is worth playing, I think. It has a really nice gameplay and some Japanese-style graphics (well, almost :))
DOS · by h'mik (228) · 2005
Contribute
Know about this game? Add your expertise to help preserve this entry in video game history!
Contributors to this Entry
Game added by Accatone.
Additional contributors: Frenkel, formercontrib, Rwolf.
Game added July 14th, 2000. Last modified April 19th, 2023.