Lotus: The Ultimate Challenge
aka: Lotus II, Lotus II: R.E.C.S., Lotus III, Lotus III: The Ultimate Challenge, Lotus: The Ultimate Challenge for your PC
Licensed by the classic British car company, this game featured 2 modes of play - one has you racing against 19 computer rivals (with witty names such as Alain Phosphate and Crash-Hard Banger), and the other pits you against the clock.
There are 13 different types of races, ranging from Motorways to night-time to sections punctuated by roadworks, and some are lap-based with others being simple A-B. 2 players could play on a split screen mode.
The game's crowning glory, however, was the RECS editor, which allowed you to create courses of your own, with theoretically millions possible.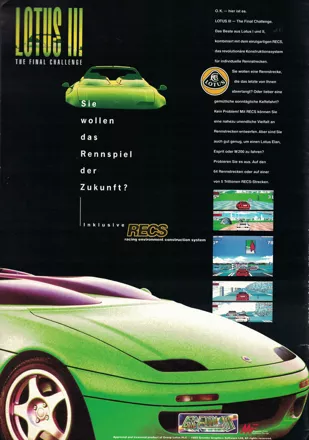 Credits (Amiga version)
4 People
| | |
| --- | --- |
| A Game by | |
| Level Design by | |
| Music by | |
Trivia
Bonus game
There is a hidden bonus game which was an updated version of P.O.D.. See here on how to unlock it on the DOS version of the game.
Cars
It appears that there are only three kinds of cars in the game, but there are actually five for you to choose from. The original three, the opponent's car, and the sprite car. All three were playable in early versions of the game.
Editor
The RECS track editor was originally planned as a data disk for Lotus 2.
PC version differences
The PC DOS version differs in some odd ways from the Amiga and ST versions of the game:
from the selectable cars, the Esprit Turbo SE has been replaced by the Esprit S4 in the PC version
some gameplay elements are not present, like the trunks in the forest level (so you can't jump over water)
the screen's aspect ratio is wrong, causing the car sprites to be squeezed vertically
even when selecting "Soundblaster", the game does not feature any digital sound effects.
Still, the PC port is quite remarkable as it is playable on a 286 with 12 MHz already and is almost perfectly fluid at 16 MHz.
Awards
Amiga Joker

Issue 02/1993 – Best Sports Game of 1992 (Readers' Vote)

Power Play

Issue 02/1993 – #2 Best Sports/Racing Game in 1992 (Amiga version)
Information also contributed by ケヴィン
Contribute
Know about this game? Add your expertise to help preserve this entry in video game history!
Contributors to this Entry
Game added by Luiz Pacheco.
Amiga added by 80. Genesis, Atari ST added by Terok Nor.
Additional contributors: Terok Nor, MAT, Henry Aloni, Martin Smith, Martin Smith, Timo W., formercontrib, Patrick Bregger, mailmanppa, FatherJack.
Game added July 21st, 2000. Last modified February 22nd, 2023.