Description
UEFA Manager 2000 is a football (European) management simulator that attempts to combine high quality graphics and presentation with the AI and options of games such as Championship Manager or Ultimate Soccer Manager.
The player acts not only as manager/trainer (selecting tactics, setting formation and starting eleven, negotiating contracts and player transfers) but also as a chief executive, controlling merchandise prices, advertising, stadium and facilities expansions and staff management (which is one of the key aspects of the game).
Includes over 400 clubs, 21 playable leagues in 9 countries (England, France, Germany, Italy, Spain, Scotland, Holland, Belgium and Portugal) with over 20'000 players available. Game modes include career (starting at the bottom of the English conference), Free play (select any club, no chance of changing) and Scenario (complete an objective such as escaping relegation or winning domestic trophies within the time limit). Games can be instantly simulated or watched using a 2D radar or the 3D engine.
It was followed by FourFourTwo: Touchline Passion.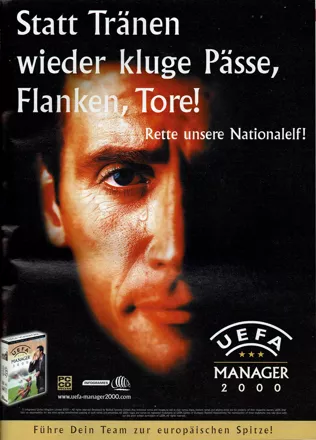 Credits (Windows version)
97 People (83 developers, 14 thanks) · View all
Infogrames Sports Vice President
Marketing Director
Brand Manager
Product Direction
Producer
Product Manager
Marketing Assistant
Research
Marketing Artwork
Technical department
Test QA Manager
PC QA Manager
QA Lead Tester
QA Testers
QA Management
Coordination
[ full credits ]
Critics
Average score: 72% (based on 12 ratings)
Players
Average score: 3.8 out of 5 (based on 2 ratings with 1 reviews)
Like Gazza during an earthquake.

The Good
The first thing that catches the eye is the clear and professional looking interface, along the classical music pieces playing. In a time that ChampMan looked a "glorified spreadsheet" (still looks, some say), this interface scores points on usability. The lineup and tactic is accessed in a single screen (to change the position of a player it's just a matter of click and dragging his icon to the new position. Knowing what are his favourite positions is just a matter of clicking his position icon, with a heart for his favourite, and a tick on others he can play without losing morale. Other information (such as cup status, employment, foreign player status or injuries) are given in another tool-tipped icon right of the name. Can't ask much more about the game as far as the interface goes.
The 3D engine, although often resulting in hockey scores, works and looks fine and without any kind of clutter. I think it was also the first game the forced the player to send the players for the warm-up before putting him into play - a definitive plus.
The youth team system works pretty well, and with the right staff (trainer and scout), there will be decent players ready to join the main squad in the next seasons in no time.
One of the most common criticisms managing games get by mainstream CM fans is how overwhelming the financial stuff can become. If that's a problem for you, just sign a good accountant, and delegate everything you don't want to waste time with. Simple as that.

The Bad
The closer that the game could start showing bugs was if Infogrames packed a few cockroaches in the box. Seriously. When a game crashes on the autorun, you start having that funny "oooh sith, this is going to end badly" feeling. Then you start a game, and notice some leagues lack a proper license, and don't agree with some of the player ratings. "No problems, that can be solved" with some editing - after all, it has a "powerful editor". Which allows to edit club and player names and dates of birth. Think someone is overrated? Want to add a couple of "Easter egg" players or youth talent? Too bad.
Oh well, supposing you had the patience to edit all teams and players to their real names (not that hard if you have access to a database with DoB's like EUFO, only tiresome) and return to the game. Here's the second part of the surprise. What was a barely stable is now a crash fest, with every press on the "save" button in the editor taking a couple of days between crashes, until the game becomes too unstable. And this excluding the potential for a save game becoming corrupted. Which, as fans of the genre and believers in Murphy's Law know, will always happen at the worst time possible. Just like after a major European win, a key league match, or three months after the last save.
Excluding major problems, there are a few parts that required tweaking. It's nearly impossible to sell players rated >90, unless if they go in an offer for other player. Other managers make an incredibly high offer for him (over £100M, IIRC), but later their chairman pulls out the deal for obvious reasons. Games viewed in the 3D engine can get very unbalanced, with scores like 7-2 being common. Another minor problem is recovering players' fitness and the frequent injuries some players' suffer.

The Bottom Line
When compared to other games released at the time the game had a pretty good opportunity to shine. A license (albeit a not very complete one, mind), a good publisher, good ideas... but any effort is undermined by a sequence of bugs unsuitable for a game that was released in practically Beta status - and without patches to make up for it.
The game ends up receiving a relatively high score for a number of reasons: the AI is acceptable, it plays pretty well during the time it isn't crashing, the overall presentation of the game is excellent, with both flawless interface and a great classic music soundtrack. And I happen to like the game, bar the three major problems mentioned above.
Windows · by Luis Silva (13439) · 2006
Trivia
Due to production problems, the version released is hardly complete: the autorun crashed on Windows 9x computers and the "powerful editor" not only allowed little more than changing names and the DoB of players, but also suffered from Windows version problems, as the widget that controls the nationality of players was reported to work only on some NT machines, leaving the majority of Windows users with garbled text where countries should be. To make things worse, If the default database was edited too much, the game would crash frequently.
Contribute
Are you familiar with this game? Help document and preserve this entry in video game history!
Contributors to this Entry
Game added by Luis Silva.
Game added December 10th, 2005. Last modified March 8th, 2023.