Released

Publishers

Developers
Genre

Perspective

Visual

Art

Pacing

Gameplay

Interface

Setting
Official Description

Crushing combos and beat up enemies!
No complicated controls, just fun with a variety of fighting actions!
The joy and faults of a pretty magical girl knocking down her enemie? Yes, please!
This is the kind of game we want to play. So, if it doesn't exist, why not make it?
And make it fun.
So, sink your teeth into this TASTY treat!
A delicious and crazy action game with bright and colorful sweet action!
1. The more consecutive combos you do, the more damage you deal!
2. Additional actions and status that increase with an RPG-like growth!
3. A fully voiced story with lighthearted characters!
4. Items are hidden throughout each stage! Where could they be?
5. Beat up an enemy, finish them off with Restore Action, and make them feel Tasty!
Sylphy Land, a land of mysterious creatures, exists in a different realm from the human world.
It is a fantasy world ruled by the fairy queen, Miruru.
One day, however, the evil spirited Evil took over and transformed the fairies into evil fairies!
What caused the Evil to take control of them is a mystery.
Can Lime, Mint, and Puffee drive Evil out of the hearts of the fairies,
and restore peace to Sylphy Land?


Please enjoy the beautiful dialogue by these popular voice actors.
Voice Actors
Shiina Natsukawa, Sora Amamiya, Momo Asakura
Chiwa Saito, Yoshitsugu Matsuoka
Yuki Tamai, Yu Akiba, Satoshi Inomata, Saki Takahashi

Completing the story will reveal 2 new game modes.
Hurry Up! Charisma Magical Girl!
 See how fast you can clear the stages in this time-attack mode.
Miruru's Heart-Pound Trials!
 Survive enemy brawls and fight for a high score in this score attack mode.
Both support rankings!
Compete with players from around the world!

All the difficulty levels are available at the start!
From noobs to skill-confident gamers, there is a difficulty for everyone!
The difficulty level can be changed at any time from the main menu options.
The higher the difficulty, the more Restore Points you will receive when restoring fairies.
※As you collect restoration points, you will unlock benefits based on your points when you complete each stage.
Normal
 The difficulty level for beginners.
Hard
 The difficulty level is a little harder than Normal. Enemies are a slightly stronger.
Really Hard
 The difficulty level is quite difficult. The enemies are very strong at this level.
Nightmare
 The difficulty level is heartbreaking. The enemies are too strong.


A girl who holds the town's title of Most Charismatic Patissier.
Currently, she is training to become the best pastry chef in the world.
A powerful fighter who specializes in close combat, Lime uses her
flame magic to overwhelm her enemies with continuous attacks!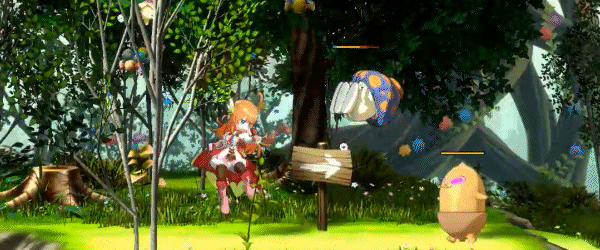 A young lady who has been defeated by Lime many times in pastry contests,
who sees her as her pastry rival.
In reality, however, she is just a lonely girl who wanted a friend.
Uses ice magic in her long-range bow attacks, freezing her enemies with icy arrows!
She also has a strong butt.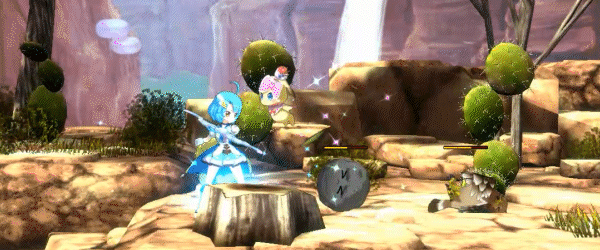 A mysterious fairy that appeared after Lime made a wish when she was a child.
He wants to give homemade sweets to his friends in his hometown in Fairyland!
Everyone will be so happy!
He supports Lime and Mint with his fairy magic!

Queen of the fairy world.
The strongest sword fighter in the fairy world and wielder of the fairy sword, Sylphid.
A very gentle and sometimes harsh ruler, she is adored by all the fairies.
Surely, a gentle queen like her doesn't have anger issues...right?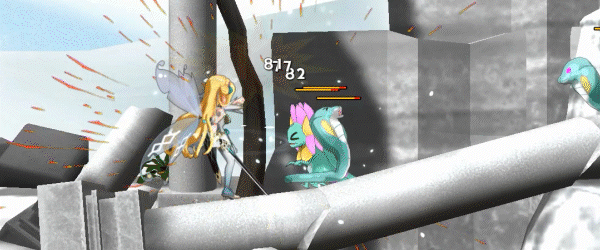 The most famous traveling merchant in the fairy world, known for the large pack he carries.
He is proud of the fact that there is nothing he can't get!
Well known for being very difficult to deal with.
The evil king who rules over the hearts of fairies with his evil heart.
He is trying to take over the fairy world with his minions, the Evil.
Source: Steam Store Description
Spellings
爆裂!スイーツランド - Japanese spelling
Contribute
Know about this game? Add your expertise to help preserve this entry in video game history!
Contributors to this Entry
Game added by Ms. Tea.
Game added May 26th, 2023. Last modified May 26th, 2023.