Louis Cat Orze: The Mystery of the Queen's Necklace
Moby ID: 204198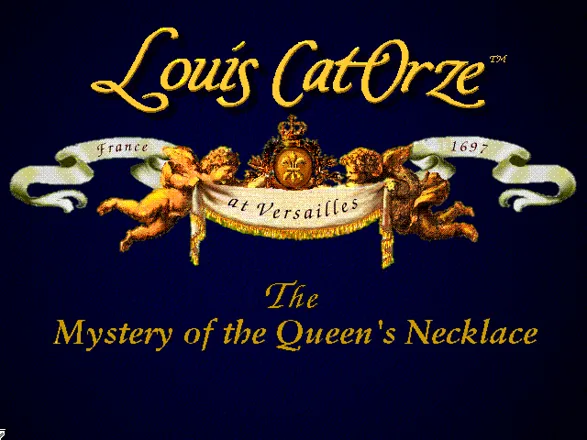 Genre

Perspective

Visual

Gameplay

Interface

Educational

Setting

Narrative
Business Model

Media Type

Number of Players Supported

Number of Offline Players

[ view all 6 specs ]
Description
Scandal in 1697: the Queen's necklace was stolen from the French court! Now the player has to assist Louis Cat Orze, the pet of Louis XIV, to investigate the crime and catch the culprits. Each day (the investigation takes place over six days which can be freely changed from a menu), the player can visit various locations in Versailles and the court. Inside the single-screen locations, the player can click on persons and items to trigger dialogue (without participation of the player character) or acquire hints like notes. The winning condition is visiting the king during the last day and answer multiple-choice questions to name the perpetrator and proof.
Sometimes the player may need to fulfill prerequisites to enter a location, e.g. a key has to be acquired on a previous day to unlock a locked room. Every location switch also costs money - and visiting the king is the most expensive of all. After the starting budget of 1000 Livre is spent, it is time to earn additional money by correctly answering trivia questions about the time period. Especially lucrative is the palace challenge which can be found by clicking on the hidden spot in each location.
As this is an educational game, there is a lot of historical reference material available. Double clicking on a person opens up a portrait where both a written and a narrated biography from the character's point of view can be accessed. Understanding the who is who of the court is vital to solving the game. All biographies can also be accessed from the hall of portraits. The library has a collection of educational texts about the time period and the map room shows the world geography of 1697.
Credits (Windows 3.x version)
73 People (65 developers, 8 thanks) · View all
Producer
Executive in Charge of Production
Writers
Illustrator
Animator
Music Supervisor and Editor
Music Director
Music Recording Producer
Graphic Designer
Sound Designer
Voice-Over Director
Project Coordinator
Associate Illustrators
Associate Animators
Assistant Graphic Designer
Assistant Sound Designer
Programmer
Historical Consultant
Biography Writer
[ full credits ]
Contribute
Are you familiar with this game? Help document and preserve this entry in video game history!
Contributors to this Entry
Game added by Patrick Bregger.
Game added June 12th, 2023. Last modified July 18th, 2023.