Supaplex
aka: Think!
Moby ID: 2106
See Also
Supaplex (2011 on iPhone, iPad, 2012 on Macintosh...)
Description
Supaplex is a puzzle game reminiscent of Boulder Dash. The player controls the red Pac Man looking character called Murphy. The objective is to reach the exit, which is only opened when a certain number of Infotrons are collected (usually all in the level). The setting is inside of a computer, therefore some computer terminology describes elements found in the levels. This includes destructible RAM chips, indestructible hardware, utility disks (which are explosives), terminals, and ports (one or two way gates). The most common enemy is a zonk, a rock which falls and rolls downwards, and explodes if it comes in contact with some, but not all other game elements. One of the most common enemies are a scissor looking enemy called snik snak which always moves in a predictable pattern.
Some levels feature gravity, where Murphy will fall down if he stands still, and has nothing beneath him. Other elements have fixed rules, such as Infotrons and Zonks always falls down, while RAM and hardware always stays put. There are 111 levels in total, and up to three of these may temporarily be skipped to advance. The game allows several profiles so that players may use the same computer with their own progression.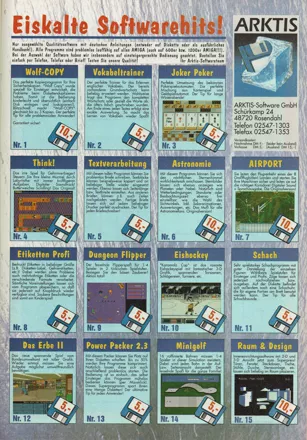 Credits (DOS version)
5 People
| | |
| --- | --- |
| Program | |
| Graphics | |
| PC Code | |
| PC Graphics | |
| Music / FX | |
Critics
Average score: 61% (based on 6 ratings)
Players
Average score: 4.1 out of 5 (based on 42 ratings with 3 reviews)
Man, was it addictive - but I FINALLY completed all levels

The Good
Each level got you thinking, and strategizing. There were enough different "plots" so you never felt like you were doing the same thing over and over... You could sneak ahead (leaving three levels unfinished) so if you felt like you hit a wall, you could at least play the "easier" levels and go back to the unfinished ones later. Head hunter (I think it was level 70 or 71) was the hardest (in my opinion), so once I passed it (after a good 20 hours of trying!) I really enjoyed the challenge of finishing the whole game!

The Bad
How much I would get shouted at by my mother for spending too much time playing on the computer... (I was a teenager at the time) I wish that they had (would) release a version that operates on a Windows platform.

The Bottom Line
Totally absorbing... I must have spent a good year (maybe even more) working through all the levels and had over 500 hours of playtime!! My fondest memories of early gaming!
DOS · by Karin Carroll (2) · 2004
One of the most addictive games to grace the PC.

The Good
Supaplex was, maybe with the exception of Digger, the single most popular game in Israel in the early PC days (IBM PC and compatibles were only beginning to gain popularity here around 1989). It was so popular, in fact, that it's hard to find anyone who has ever used a computer and who hasn't played it.
Supaplex is a terrific puzzle-game which is, as Luiz mentioned (Actually, I mentioned it; you never know when or where the Editor will strike! Muahaha... -- Ed.), remarkably similar to the old (and inferiour IMO) Boulder Dash, while featuring better controls, smoother gameplay and overall better audiovisual quality. It features terrific VGA graphics (for the time and in general) and ran perfectly smooth on a 286, and had a fairly good tune (as far as I can remember) in the beginning. Once you got past the great graphics you will find an amazingly addictive game that is simply hard to beat, with a myriad of levels, some of them so amazingly challenging that you'll spend days and even weeks just to pass that one level. People here often bragged about where they managed to reach in Supaplex (most of them getting stuck around level 60 and the best managed to reach the hundred-ish levels), and playing it in groups was not uncommon.
In short, Supaplex is a phenomenon - a technical wonder with gameplay surpassing the popularity of recent successes like DX Ball.

The Bad
Some of the levels are just too damn hard -- I don't recall ever getting past level 80, and the entire game is based on trial and error - but some other games, at least it is obviously so and doesn't presume to be something else.

The Bottom Line
A terrific, challenging and addictive game. Get it, play it, love it. I know I did.
DOS · by Tomer Gabel (4539) · 2000
Probably the game I spent most time with of all games!

The Good
The game contains much levels, which have a slowly upgoing difficulty, but never is too easy that you get bored of it. All levels are replayable at any time which makes it fun to play a level again sometimes when you want.
The graphics were for the time it got released really good and especially very smooth. Also the game engine was very stable and everything always went the same way so you could calculate to solve puzzles.
Me and my family spent at least 500 hours on playing this game, from which 200 hours with levels which we didn't save yet (it counts the time you spend on not-saved-levels) but i'm pretty sure we spend at least as much time at replaying levels. With some friends after school, take turns on saving a level, that was fun!

The Bad
I liked allmost all of this game except maybe that some levels might be slightly to difficult or even close to impossible.

The Bottom Line
One of the best, most addictive and best designed puzzlegame of the past century. Fun for hours, for kids and adults. Everything a game should have is inside. The concept is taken from Boulderdash - but it's a damn good clone, so who cares!
DOS · by Erwin Bergervoet (388) · 2001
Trivia
The game was originally designed to run on XT/AT machines (before the days of the 286 even). The speed was supposed to be 35 frames per second, which was achieved because the game waited for the vertical refresh (monitor update) which is 70 frames per second in VGA, but the game calculations were slow enough to make the game wait for two retraces.
Since the game was mostly popular on 286 and higher machines, almost everyone played (and plays!) the game at twice the intended speed.
Herman Perk disassembled the code and updated it to make the speed variable, resulting in the first SpeedFix. This was later extended to enable hidden features in the game and fix some bugs.
Related Sites +
Supaplex - Wikipedia
More information about the game on the open encyclopedia website, Wikipedia
Supaplex website
The most extensive Supaplex website in existence. You can get the game here, level editors, new levels, and many other things.
Contribute
Are you familiar with this game? Help document and preserve this entry in video game history!