Xena: Warrior Princess - The Talisman of Fate
Moby ID: 21657
Xena: Warrior Princess - Talisman of Fate is based on the TV-series Xena: Warrior Princess. The Nintendo 64 version of the series tie-in is a fighting game, unlike its PlayStation counterpart.
The whole Xena universe is used in the game as all the levels and characters, except the new boss character, are familiar to the fans of the show. The action takes place in arenas which represent different kinds of surroundings with all the characters having their "own" level.
The fighting is done with various weapons each character wielding his/her trademark weapon such as Xena's chakram, Gabrielle's staff and Callisto's sword. It includes most of the standard fighting-game modes such as story, vs. and training as well as a roster mode, where each player picks a succession of characters rather than just one.
The fighting system is somewhat different from more traditional games. The most obvious difference is that four players are allowed instead of two. It can be a team battle or a free-for-all. The analog stick moves characters around on the ground in two dimensions, with separate buttons for block, jump and duck. The C-buttons handle attacks. Special moves are accomplished mostly by pulling the analog stick either toward your opponent, then away or vice-versa.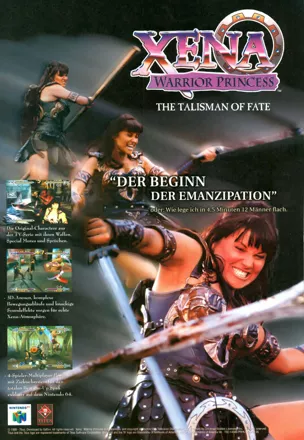 Credits (Nintendo 64 version)
86 People (55 developers, 31 thanks) · View all
Game Design
Programming
Art
Music
Sound
Data Wrangling
Additional Programming
Yet More Programming
[ full credits ]
Critics
Average score: 62% (based on 16 ratings)
Players
Average score: 3.1 out of 5 (based on 10 ratings with 1 reviews)
The Good
The graphics are quite good by Nintendo 64 standards. Granted, all it had to render was four characters and a rather small arena, but still, there's good variety of Xena characters, everyone is very recognizable, and all their outfits come from the show as do the locations and music.
I believe the mo-cap work was done by the actual Xena stunt team. Pretty much every move commonly used on the show is available here from Xena's fire-breath to her flying multiple kick.
This is only one of only a handful of fighting games for the Nintendo 64, which makes me greatly appreciate its presence. It also is one of the very few vs. fighting games to allow four simultaneous players. It even includes team play with any combination of teams you wish.

The Bad
Unfortunately, this sounds better than it actually is. Like too many fighting games from developers inexperienced in the genre, Talisman of Fate has serious balance problems. The problem is largely in characters' ranged attacks as many are too slow to be useful. A character like Xena will completely mop the floor with Velasca while she's trying to execute her tornado move. Besides this, there has been no attempt to balance the boss character, Despair, and anyone using him who's even slightly competent can beat any player using another character in multiplayer matches.
The control system is somewhat unique, especially for its time. The analog stick controls movement, Z & R duck and jump and A & B switch targets and block. The C-buttons are used for attacks. This gets rid of the familiar Street Fighter controls which never made a lot of sense in 3D games. Unfortunately, it isn't handled nearly as well as the eight-way run in Soul Calibur. The main effect is to make it too easy to evade attacks. Making characters go considerably slower when backing up would have gone a long way here. The worst aspect of this is apparent in matches with more than two players. The system severely punishes aggression as one player will stand back and use their ranged attack on the group while the others wear each other down. There is no downside to this strategy.
Speaking of which, standing back and throwing things is the only viable tactic in the game's final boss fight. Despair does enough damage and the blocking is wonky enough that you won't be able to take him head on, so you'll just dodge around a lot and throw things. It's not terribly exciting.
There is also an unfortunate paucity of features. You have an quest mode, where each character goes through a series of rounds against various enemies, then fights despair, then gets a short ending. You can mix things up a bit by taking on two or three opponents instead of one. Then, there's a vs mode where you can fight computer players or humans (or a combination), a roster mode, where you get to select several character and go down a line as they die and a rather bare practice mode. There are no extra features unless you count a couple cheat codes. All you have is the modes. There's no option to watch the endings after you see them, no unlockable characters besides the boss, no other modes, not even the ability to select costumes.If you want to see Xena's fourth costume, you either need to play a line of four Xenas in roster mode or have all four people play as Xena. For that matter, there's no voice work except some yells and screams straight from the archives.

The Bottom Line
Talisman of Fate has a solid foundation for a game. The engine is good as are the basic mechanics. Unfortunately in order to be good, it needed to have some more time spent tweaking the balance and giving it a few basic features. What we ended up with was another licensed quickie with a couple nice bits. I wouldn't recommend buying this game unless you're just a big Xena fan. At least it's cheap these days.
Nintendo 64 · by Ace of Sevens (4399) · 2006
Contribute
Are you familiar with this game? Help document and preserve this entry in video game history!
Contributors to this Entry
Game added by Evilhead.
Game added March 27th, 2006. Last modified February 22nd, 2023.